NYC Broadway Shows

What to see on your Family Vacation!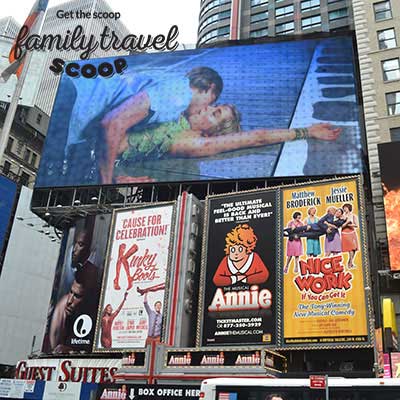 The number of Broadway show options can be overwhelming but there are some which stand out above the rest especially if you're looking for a production which will suit all (or most) members of the family.
Lion King, Minskoff Theatre - 

Simba and his friends from the Serengeti come to life in elaborate costumes and with inspiring music as the story familiar to most kids is told on stage. The amazing animal costumes and

fast moving

, dramatic scenes will keep the whole family entertained.
Jersey Boys, August Wilson Theatre -

The musical story of The Four Seasons group who went from anonymity in New Jersey to international fame with hits like Sherry and Can't Take my Eyes off of You. Music

fans in general

will enjoy this show although the adults will probably get more enjoyment out of the nostalgic theme. The show moves along swiftly with emphasis is on the storyline rather than previous knowledge of the group.
Matilda, Shubert Theatre -

This award winning musical based on Rahl Dahl's classic book follows the adventures of the energetic, highly intelligent and cheeky Matilda as she carves out her destiny in her own unique way. A perfect show for kids and the whole family.
Newsies, Nederlander Theatre -

This musical is based on the true events in 1899 when newspaper prices were raised at the expense of the newsboys. It follows a young newsboy who dreams of being an artist, and the action he and his fellow newsboys take during the battle between the "little man" and big business. An inspiring and feel-good musical with show stopping dance numbers and great music. Perfect for all members of the family.
Cinderella, Broadway Theatre -

Rodgers& Hammerstein version of the classic tale of Cinderella is on Broadway for the first time. The story is brought up to date with some new sub-plots and contemporary additions. A family show although it runs for 2.5 hours it is filled with bright costumes, magic, comedy and music.
Wicked, Gershwin Theatre -

This musical tells the story of the witches from The Wizard of Oz before Dorothy arrived. We see the witches at university and how they became the "Wicked Witch of the West" and "Glinda the Good." A family-friendly show with music by the creators of Godspell and Pippin, great sets and some aerobatic effects to make young audiences gasp.
Mamma Mia!, Winter Garden Theatre -

The iconic songs of the group ABBA are threaded into a musical story of a young girl and her wedding on a romantic Greek island when she invites three men from her mother's past to discover which is her father. A happy and beautiful production, kid-friendly, and best for those who love ABBA music although also entertaining for those who have never listened to their music.
Spiderman Turn off the Dark, Foxwoods Theatre -

A musical, high-action production bringing to life the story of Peter Parker better known as Spiderman. The sets take us through Manhattan cityscapes past landmark skyscrapers. All kids will enjoy this production not only because the character is familiar to

them

but it is also the most technically advanced Broadway production in years, with elaborate aerial stunts as Spiderman flies through the air.
Pippin, Music Box Theatre -

Although kids are less familiar with this tale than other Broadway shows the spectacular acrobatics, dancing, costumes and circus acts will entertain them non-the-less. The complex plot sees prince Pippin seek adventure, join a circus, go to war and fall in love. The Broadway production of this classic is not as tame as school versions and includes sexy costumes, some violence and material perhaps more suited to teens than younger viewers.
Stomp - 

The show is a music and dance party

-it

 is a full energy performance. The performers interact 

through

 the show are crazy at times and at other times comical. There is some audience interaction, intense moments and very light moments. 

Read more here

.
Potted Potter, Little Shubert Theatre -

This is the "potted" or condensed version of the Harry Potter saga. The talented cast takes a tongue-in-cheek journey through the 7 books and includes lots of laughter, magic and audience participation. The show is geared towards kids and perfect for over 6s even if you've never seen or heard of Harry Potter.  
Annie, Palace Theatre -

The well know story of orphan Annie who is forever optimistic and loving includes classic songs from the musical which kids are sure to recognize. With comedy, dance and a touching storyline as well as a cast of kids this is a perfect family show although under 4 year olds are not admitted.
Rock of Ages, Helen Hayes Theatre -This is a rock musical set in the 80s following rockers on their path to fame and glory. The show is high-energy, nostalgic and racy. There are outlandish rock-style costumes, some sexual innuendos and a lot of rock music! Teens rather than young kids will enjoy this show best. Read more here.
More Things to do in New York City for Kids
More Things to do in New York 
Home

›
USA

›
NYC

›
Theatre-Broadway