Thermae Bath Spa- World's Best Spa
2017 Guide to UK Travel
The country's only natural thermal spa gets its supply of warm mineral-water from beneath the ground. The site of these ancient Roman baths has been seamlessly blended with in a contemporary design using glass, stone and natural light to become the New Royal Bath. Don't miss this, it is so relaxing! My favourite thing to do in Bath!
Twilight Package at Bath Spa
I went on this package and highly recommend it. The package includes 3 hours at the New Royal Spa and use of towels, robes, slippers and a meal at the restaurant including a glass of wine, lager or juice. I have a lovely glass of wine with a Salad Nicoise with Grilled Salmon, it was delicious! You can book this package for £42 from Sunday to Friday from 16:00 with last entry at 18:00.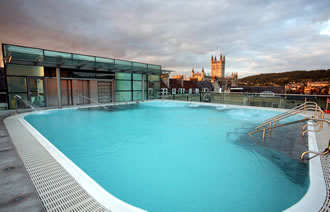 Photo credit Thermae Spa and Photographer: Matt Cardy
New Royal Bath -The complex consists of the indoor Minerva Bath, the pool has rounded corners and columns adding to the ambience. In the water there are water jets used for massage and there is a section with a whirlpool. All the pools in the spa are approximately 33.5°C and 1.35 meters deep.
My favourite spot is the open-air rooftop pool. It has a spectacular view to look out over the city through the steam which rises off the warm water. Amazing to watch the people of Bath on the streets and look over the beautiful scenery from high above. The pool has air seats and bubbling underwater jets.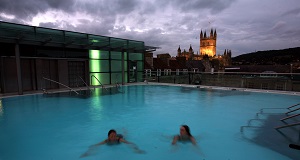 Photo credit Thermae Spa and Photographer: Matt Cardy
In the Aroma Steam Rooms you can enjoy relaxing with a variety of meditative aromas to calm your mind. The steam rooms have glass "pods" each infused with an aromatic essence including eucalyptus, mint and lotus flower. Fiber optic lights add to the clean-cut look of the rooms; waterfall-type showers massage you and tropical water sprays mist over your body.
You can get more than 40 spa treatments at the centre including aromatherapy, massages and hot stone therapy.
Cross Bath -In a separate Georgian building is the Cross Bath, a more intimate spa with fewer facilities. The building is on the site of an ancient Celtic sacrificial site. There is an oval pool fed with natural thermal water by a poolside fountain. Spa treatments are not offered at the Cross Bath and there is no joint entrance ticket which covers both the New Royal Bath and the Cross Bath. A session in the Cross Bath lasts 1.5 hours and costs £17. Children 12 to 16-year-olds pay £8.50.
NOTE: Children under 16 years old may not use the New Royal Bath thermal baths. Under 18 year olds cannot have spa treatments. Under 12s are not allowed in the Cross Bath and 12 to 16 year olds may only visit the Cross Bath when accompanied by an adult on a 1:1 ration.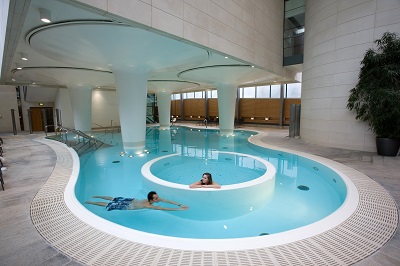 Photo credit: Thermae Spa and Photographer: Dave Saunders
Visiting Bath's Thermae Spa
The Thermae Bath Spa is located at Hetling Pump Room, Hot Bath Street, Bath and can be contacted by calling 44 1225 33 1234 or 0844 888 0844 or on the Thermae Bath Spa website. You cannot book spa sessions in advance unless you are in a group of 8 or more. Spa packages must be booked in advance. It is recommended to avoid visiting on the weekends as it can be very crowded.
Open Hours for the New Royal Bath are 09:00-21:30, last entry for a 2 hour session at 19:00, pool and steam rooms close at 21:00. 
No membership is necessary, you just need to book a 2 hour (£27),  4 hour (£37) or full day (£57) spa season at the New Royal Bath. This gives you unlimited access for that time period of the indoor Minerva Bath and the roof top pool as well as access to the café and restaurant. In addition, you can choose to book spa treatments at an extra fee. The time of the spa treatment is in addition to your spa session so for example a 2-hour spa session plus an aroma massage would be 2 hours and 50 minutes. Towels (£3), robes (£4), slippers (£2.5) or Trio (towel, robe and slippers ) (£9) can be rented from the reception or you can bring your own. If you have ordered a package or spa treatment then complimentary use of robe, towel and slippers are included.
A SmartBand allows you to be charged for extra services and meals in the café without carrying cash around with you. When you leave the spa your SmartBand is "read" by a scanner and you are charged for any additional purchases.
Visit Thermae Spa for reservations.
More things to do in Bath

Home

›
Bath

›
Thermae Spa