New Victory Theater in NYC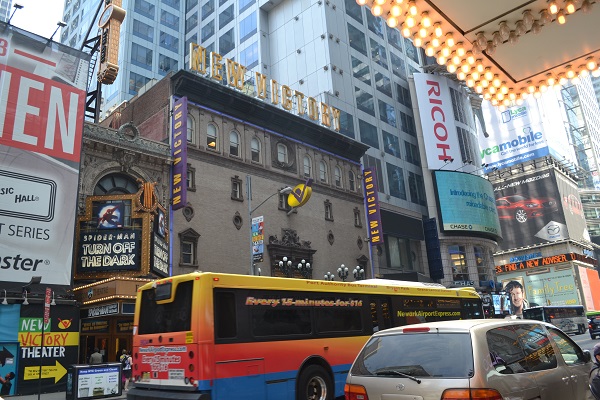 The New Victory Theatre in New York is an iconic theatre established to entertain, educate, inspire and enchant kids. It provides sophisticated theatre which doesn't talk down to kids but rather manages to touch them in a special way through multidisciplinary performances.
A performance here may include puppets, break dancers, actors, singers, dancers, mimes, daredevils, rock stars and storytellers. They maintain reasonably priced tickets so that theatre can be accessible to all and their performances aim to be uplifting and thought provoking.
The theatre has a number of programs which include the New Vic Usher Corps, a program which employs high school and college students who might otherwise not have ever entered a theatre. There are also family theatre workshops and in-theatre exhibits and art activities. There are a number of award winning educational programs for local school children.
On the theatre website the recommended age of children for each show is listed and there are performances that are suitable for kids as young as 4 months old. All audience members must have a ticket and under 12s must be accompanied by an adult.
There are three venues in the Victory Theatre family. The New 42nd Street Studio puts on shows for the youngest audiences, with room for floor seating and various seating configurations. The Duke on 42nd Street is an intimate performing space.
 The New Victory Theatre can seat 499 in the auditorium and the historic building, which is the oldest operating theatre in NYC, has been restored to its former glory. The facilities, like the performances, are geared towards families and kids. In the lobby there is stroller parking, free lockers, changing tables and healthy snacks are on sale. 
The 2013-14 season includes productions that will appeal to audience members as young as 4 months and of course their chaperones will be entertained as well. This is just a small sample of the productions on offer.
The Girl Who Forgot to Sing Badly, The Duke, Ages 7+ -The story of a young girl out to save her city is told by Louis Lovett from Dublin, Ireland. The storyteller plays all the characters taking the audience through highs and lows, with narration and song.
HyperISH, The New Victory Theatre, Ages 8+ -Performed by ISH from Amsterdam, Netherlands this is a dance performance using styles from the Dutch street and club scene to explore the young people's search for identity. They use ballet, break dance, hip hop and acrobatic skills.
Songs From Above, New 42nd Street Studios, Ages 2-5 -In a tent full of stars, puppets and object animation are used to recreate pleasure moments like splashing in puddles, discovering treasure and running barefoot on summer grass.
This Baby Life, New 42nd Street Studios, Ages 4-18 Months -Presented by Sally Chance Dance from Adelaide, Australia the young audience is invited to mirror and interact with a contemporary dance performance. The child's participation is developed to the rhythmic and melodious sounds of the accompanying music.
Measure for Measure, The New Victory Theatre, Ages 13 + -Shakespeare's play is brought to life with live music and excitement. This is a great introduction to the world's greatest playwright using performance skills and dark humor that will make the text interesting and captivating.
The New Victory Theatre has two locations on 42nd Street, the New 42nd Street Studios and The New Victory are in the same location at 209 W 42nd Street and the Duke at 229 W 42nd Street on 42nd Street.
Tickets for both venues can be bought at the New Victory Theatre box office which is open on Sunday and Monday 11am-5pm and Tuesday to Saturday 12 noon – 7pm. Ticket prices can be as low as $2 for kids and $5 for their chaperones
More Things to do in New York City for Kids
Home

›
USA

›
NYC

›
New Victory