The Best Dishes & Fiji Food For Kids

Fiji food is full of flavor and many dishes are cooked with coconut creme or lolo as it is known in Fiji. There is a strong Indian influence as there is a large Indian population, so you will find many delicious curries on the menu in most areas.

At traditional meals in Fiji you sit cross legged on the floor around a communal table. Cutlery is not used and you will eat with your hands. At the restaurants and resorts, there will of course be tables and cutlery!

Snacks in packages such as chips, cookies, crackers, dried noodles can be brought into the island if you want to bring some for the kids. (No meats, fruits, vegetables etc). You can also buy these types of snacks at the supermarkets in Fiji.
Delicious Fiji Food For Your Kids To Try

The traditional lovo feast is one of the most delicious Fiji food. A hole is dug in the ground where firewood is lit. Rocks are then placed on top until they glow. Meats such as chicken, pork and lamb as well as whole fish are wrapped in banana leaves and place on top to cook.
Root vegetables such as casava and sweet potato and dalo are also added. Banana leaves are then placed on top creating an earth oven! Many resorts will offer the lovo for their guests. Children are thrilled watching this meal being prepared and then eating it!

Kava is a traditional Fiji drink that is made from pounding the kava root (part of the pepper family) and mixing it with water. It is known as yaqona. The drink will make your tongue tingle and head feel fuzzy and you feel a little sleepy. Better to leave this one for the grown ups. Kava is served on a daily basis in the villages and there is a ceremony involved with its consumption.
Rourou is a spinach-like vegetable cooked in coconut cream.
Kokoda is sliced fish in lemon juice and topped with onions, chillies, tomatoes and carrots and mixed with coconut cream. It is served cold.
Duruka is a green vegetable similar to asparagus and cooked in coconut cream.
Breadfruit is a starchy fruit grown on trees. It can be roasted (delicious!) fried or boiled and is usually served as a side dish.
Cultural activities + games + travel quizzes + artwork and much more 


Fiji Fruit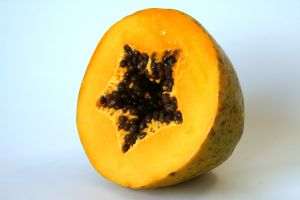 Fresh fruit is one of the best Fiji food for kids to eat on your holidays. If you are staying on the main island then head to one of the local fruit markets to sample the tasty fruits of Fiji.
Sugarcane

is a delicious fruit. Peel the tough outer layer and chew on the

woody

insides to squeeze out the sweet juice.



Pawpaw or papayas are a large refreshing fruit. Scoop out the small pits and eat the pulp. Don't miss this one! 

Mangoes are one of the most delicious fruits, especially straight off the mango tree. Peel the skin and you will have a hearty sweet fruit to devour.
Soursop is a green bumpy fruit that easily breaks open to reveal a white juicy pulp with black pits. Makes a delicious drink.
Fiji family travel info:
---
| | |
| --- | --- |
| Fiji Family Resorts | Fiji Attractions |

| | |
| --- | --- |
| Fiji with Kids | Children's Guide |
---
Fijian Holidays

›
Fijian Food