CLOSED: FAO Schwarz Toy Store NYC
Unfortunately this iconic store has closed
FAO Schwarz Toy Store in NYC (often misspelled as FAO Schwartz) is the flagship store of the world's most famous toy store which opened 150 years ago. It is every child's fantasy store with absolutely every kind of toy, from traditional to the latest gadgets. There are the usual toys as well as some huge, and expensive toys that perhaps only the rich and famous can afford.
There is a virtual jungle of life-size stuffed animals sponsored by the American Museum of Natural History, a larger-than-life piano and all the big name brand toys. Perhaps one of the winning features is the demonstration tables where a few examples of the toys are open for kids to try out. There are staff and personal shoppers on hand to assist you finding what you want and other staff members running toy demonstrations.  
The store décor is just as enticing as the products on sale with large versions of toys, bright lights, seasonal decorations and theme decorated sections. The toy store experience begins when you enter the store and are greeted by a real Toy Soldier, which is part of the store's brand. The store elevator is shaped like a robot and called "GO-2-FLOOR-2". There are regular performances, events and arts and crafts sessions for visitors to participate in. The store's signature toy is the giant piano keyboard which featured in the movie "Big."
FAO Schwarz NYC Tips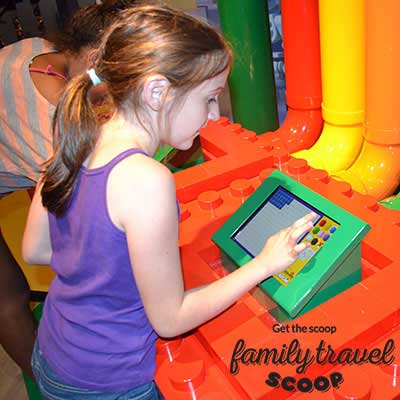 Especially for Babies and Toddlers - There is a full baby and toddler section with all the toys and equipment you could dream of from age 0.
Especially for Children - Check out the book section for story time (11am, 3pm and 1pm on weekends). 
 Take an official tour of the store led by one of the FAO Toy Soldiers. Tours suitable for 3-year-olds and up. There is a fee charged for the tour. For details e-mail: concierge@fao.com
Have breakfast with a FAO Toy Soldier before the store opens and get a private tour of the store. Contact above e-mail. Approximately $40 per person.
 The Cupcake Decorating experience takes place on the 2nd floor with all the toppings and kid-size kitchen equipment. Contact above e-mail. 
 Face painting available by the in-house artist daily 11am – 6pm for a fee.
Especially for Teenagers - FAO Schwarz Toy Store also caters for older kids with technical gadgets and games.
Try to avoid weekend visits when the store can get very crowded. FAO Schwarz Toy Store offers free delivery to many New York hotels and they also offer free gift wrapping. There is a café/bakery attached to the store but expect lots of sugar and caffeine. 

FAO Schwarz Toy Store Hours and Location
Open Hours -Sunday – Thursday 10:00 - 20:00; Friday – Saturday 10:00 - 21:00. Extended open hours during Christmas season.
Prices -0.99c – thousands of dollars.
Recommended amount of time for FAO Schwarz visit: 2 hours
Directions: FAO Schwarz Toy Store, 767 5th Avenue, 58th Street, New York City, New York, 10153
Subway: N Q R to 59th Street/5th Avenue; 4/5/6 to 59th Street/Lexington.
Bus: M1, M4, M5
More Things to do in New York City for Kids
Home

›
NYC

›
FAO Schwartz