Delicious Costa Rica Food For Kids

Costa Rica food is delicious! One of the highlights of your family vacation will be sampling the tasty fare. Be sure to eat at a local soda (small restaurant) and try some of the local fare. The casado is a typical Costa Rican meal served at lunch and consists of rice and beans, meat, fried plantain and salad. Costa Rica food is generally quite mild.

You will find international restaurants and the odd fast food restaurant (Burger King, Pizza Hut etc) in the major tourist areas if your kids are missing familiar food from home.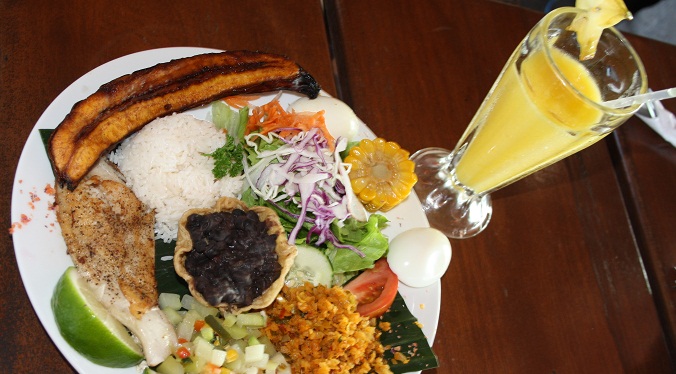 The staple of Costa Rica food is gallo pinto (black beans and rice) and you will find this served at most meals-including breakfast. My children loved this stuff! Soft tortillas are often served and you can fill them with the meats, rice and beans etc.
The fruit in Costa Rica is plentiful and fresh. Your kids will love the sweet pineapple, juicy watermelon and ripe bananas. Stop by the local fruit markets and check out some of the more exotic fruits like water apples, granadillas, mangoes and papayas. Your family can also enjoy fresh fruit juices such as soursop juice (my favorite!) and starfruit juice.

Try This Costa Rica Food With Your Family

Gallo Pinto is a delicious staple of Costa Rican cuisine. The black beans and rice is usually sauteed together with onions, bell peppers and cilantro. This is the national dish and is often served for breakfast along with eggs, cheese and fried plantain.
Fried Plantain is a delicious Costa Rican side dish or snack. Plantain is a member of the banana family but can not be eaten raw. It can be fried, mashed and fried or baked. My kids love this.
Yuca is a starchy vegetable that is commonly served as a side dish. It is often fried and has a slightly sweet taste.
Arroz con Pollo is a delicious dish consisting of rice and chicken. This fried rice dish is yellow in color and cooked with vegetables and spices such as cumin and paprika.
Tortilla Chips are another tasty Costa Rica dish that the kids will love. They are often served with a black bean dip or as nachos with black beans and cheese. Chimichurri is similar to salsa and is made of tomatoes, onions and lime juice and cilantro.
Fresh Fish is available along the coasts of Costa Rica. Or try some fried tilapia from one of the local farms. Delicious!
Coffee is one of the main exports of Costa Rica. You will be able to enjoy plenty of delicious fresh brewed coffee on your vacation. Most hotels offer free all day long. This one is for the parents!
Learn more about Costa Rican food here!
---
---
Home

›
Costa Rica

›
Costa Rican Cuisine