Fun Things To Do In La Fortuna With Kids

Top things to do in La Fortuna 2018 guide
Are you ready for our selection of top fun things to do in La Fortuna?
La Fortuna is a popular area to visit with kids. We loved it! Choose from thrilling activities such as ziplining, horseback riding or exploring the Venado Caves. Or sit back and relax in one of the natural hot springs!   You can easily book tours in town once you arrive. Most tours will provide transportation from your hotel if you don't have a rental car. Many tours have a discounted price for children under 10.

Best Zip Lining and Canopy Tours For Kids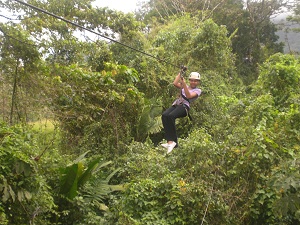 Costa Rica is known for its ziplining.  It is an excellent family friendly activity where you get to zip through the rainforest and soak up the beauty of the area.   La Fortuna has several reputable companies offering safe and fun ziplines for the daredevils and the scaredy cats (that includes the parents!).  So grab a helmet, strap yourselves in and swing from the treetops! This is one of the best things to do in La Fortuna with kids!
Los Canones offers 12 cables up to 500 meters long. This is one of the best zip lining options for kids as after your thrilling adventure you can enjoy the day at Los Lagos hotel. There is a butterfly garden, crocodile ponds, frog farms and ant farms. There are also several water slides and lots of pools and hot springs. We did the zip lining here and had a great time. The staff was very friendly and the kids loved the water slides and pools. I laughed really hard watching my tough teenage son have a mini freak out when a butterfly landed on him in the butterfly gardens. Wish I had that on video!
Ecoglide has 15 cables to zip across with lengths up to 430 feet. It is one of the newest adventure parks and is built with 2 separate cables for safety. There is a Tarzan swing where you can swing freely through the air. Ages 4 and up.
Sky Adventures starts with a ride up in the sky tram. Then there are 8 cables to cross with a maximum length of 750 meters. These are some of the longest in Costa Rica. This is a great canopy tour for teenagers! There is also a night canopy tour where you maybe able to catch a glimpse of the volcano erupting! Ages 8 and up.
Montana De Fuego offers a combination ziplining tour, rappel and horseback riding. All of our favorite fun things to din in La Fortuna combined in one. The views are amazing of the beautiful countryside and rain forest. There are 9 cables to zip across. The rappel is down a 45 meter cliff beside a nearby stream. My family did this tour and had a great time (though we preferred the ziplining at Los Canones). The rappel was a fun adventure- a bit nerve racking but we all completed it, including my 9 year old daughter. The horse back riding was a quick stroll through the forests. This is a good combo tour if you only have a short time in the Arenal area.
Mundo Aventura canopy tour starts with a cart ride or horseback ride. This is followed by a 30 minute nature hike to the first cable. There are 10 cables ranging from 200 meters to 800 meters. There is a discount for kids.
Check Out our Costa Rica Video

Watch the video of La Fortuna!
Best Hot Springs To Visit With Children


A visit to one of the hot springs is another one of the fun things to do in La Fortuna with kids.  After a long day of hiking there is no better way to relax together.

Baldi hot springs is a great option for families with kids. It does have a bit of a party atmosphere and the pools are all man made, but my kids loved this place! There are three crazy water slides (best for older kids and teenagers) that land in a hot pool. There are lots of man made hot springs of various temperatures, some with music, some with swim up bars, and at the top there are some quiet peaceful springs with mosaic beds. You can book the hot springs with a meal at the buffet restaurant as well. We booked with the buffet and it was the typical resort buffet (not that good-but we didn't starve).
Ecotermales is the smallest of the La Fortuna hot springs. It has four pools of varying temperatures and one with a waterfall. These are natural pools and the gardens are beautiful. Entrance is limited to a 100 people at a time to allow for more privacy. Dinner is available as an add on. These hot springs are highly recommended.
Tabacon is one of the pricier hot springs in the area. It offers several natural springs and waterfalls of varying temperatures. There are hot pools and cool pools in a beautiful natural setting. There are also natural streams with hot water to relax in. The kids will enjoy the water slide! This place is very peaceful and relaxing. You can add a buffet dinner to your package.
The Springs offers day passes to use their hot springs. There are 18 different pools of varying temperatures as well as 2 water slides set in beautiful gardens. Don't miss out on the infinity pool overlooking the volcano. There is also an animal sanctuary here. Your children will love seeing the rescued animals.
Relaxing should be part of your things to do in La Fortuna. It's so nice to have many options.
More Fun Things to Do in La Fortuna
Family Attractions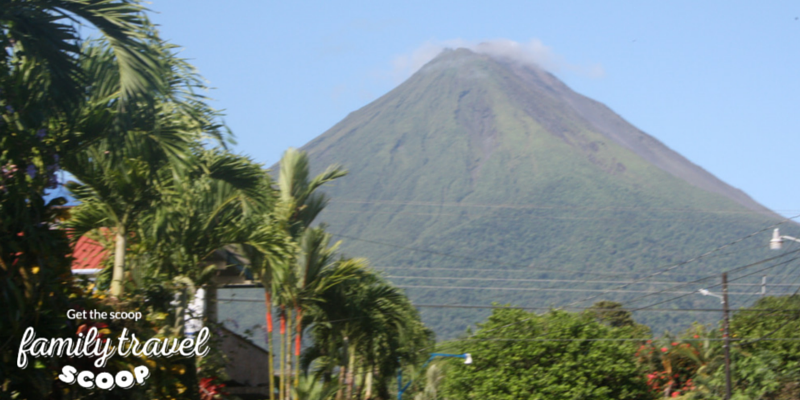 Trying to catch a glimpse of Arenal Volcano is one of the interesting things to do in La Fortuna with kids. This is one of the ten most active volcanoes in the world. If it has been rainy the volcano may be covered in clouds. Once the sun starts shining you will hopefully see the top! If you are really lucky you may be able to see the lava flowing at night. There are tours available where you can hike on the old lava flow. This is one of the unique things to do in La Fortuna!
Venado Caves are located nearby. Explore the caves and check out the bats, spiders, frogs, and bugs that live inside. You will get wet and dirty on this tour as your crawl around the caves.

Hanging Bridges is one of the top Arenal attractions for kids. There are 3 kms of trails through the rain forest where you can explore the beauty of Costa Rica. There are several bridges to cross on your visit and you will have great views of Arenal Volcano and a waterfall. You can walk the trails independently, hire a guide at the entrance or join a birding tour in the early mornings.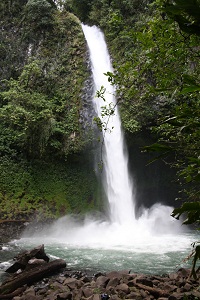 La Fortuna Waterfall is one of the most beautiful sights in the Arenal area. There are several souvenir shops (great prices here!) and stores selling ice cream, drinks and snacks. There are lots of stairs that lead the way down to the waterfall with a couple of viewing platforms along the way. The waterfalls are stunning and you can swim at the bottom (just keep everyone far from the actual falls). The hike back up the stairs is rather strenuous but worth it! It would be difficult to climb with toddlers and small children. Older kids and teenagers will have no problem. You can also do a horseback riding tour to the falls.
Volunteer at Proyecto Asis with the kids. This wildlife refuge center offers both short term (for the day) or long term volunteer opportunities. You can help out with the care and feeding of the animals that are rescued and brought here such as spider monkeys, sloths and raccoons. The program is also educational and your family will learn all about the rain forest and wildlife of Costa Rica. They also offer a homestay program where you can stay with a local family. This is great for kids of all ages. One of the unique things to do in La Fortuna. 
Take a ride on the Sky Tram up through the rainforest. The ride takes about 20 minutes each way and is suitable for all ages. You will have great views of the volcano and lake. At the top there are some nature trails. There is also a butterfly garden nearby. One of the best things to do in La Fortuna is to take a ride into nature's best gardens.
Go on a night hike in the rain forest in El Silencio nature reserve. Learn all about the night life in the jungle. Plenty of the wildlife is nocturnal so your kids will love seeing the glowing eyes coming from the forest and hearing the noisy critters.
Horseback riding is one of the fun things to do in La Fortuna with kids. You can ride the horses to La Fortuna waterfalls. We did this tour and it was lots of fun. We rode for an hour through the countryside, through small creeks, in the rainforest and through some local neighborhoods. We then spent an hour cooling off in the pools from the waterfalls. After we rode back to the stables. It took about an hour each way. My kids loved it so much we arranged to horseback ride the next day too. We booked through a tour operator in town.
Ecocentro Danaus is a biological reserve near La Fortuna. This is one of the best ways to see wildlife in this area. You might see the two or three toed sloths, red eyed frogs, Jesus Christ lizards and alligators. There are lots of colorful birds to see here too. There is a butterfly farm where the kids can learn about their life cycle. One of the best things to do in La Fortuna with toddlers and children of all ages.
Head to the town of La Fortuna for great souvenir shopping and for a meal. There are lots of great restaurants to choose from including local Costa Rican food, steaks, pizza and there is a Burger King. There is a bakery selling fresh baked goods near the National Bank. Across from the bakery is an open air restaurant (very cheap) serving delicious fried chicken, fajitas, nachos and burgers. There is also a pretty park you can stroll through in the center of town with park benches, flowers and paths.
Teenage girls (and their moms!) will love a visit to one of the local spas in town. There are several to choose from and they are quite cheap. You can get massages, pedicures, manicures, facials and even volcanic mud wraps!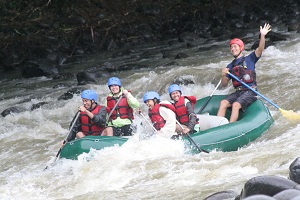 Head to the Toro river or Sarapiqui river for a thrilling whitewater rafting tour. The Toro rapids are class III-IV and are best for teenagers (13 and up). The rafting on the Sarapiqui River is Class II-III and is available for ages 9 and up. We did the rafting on the Sarapiqui river and loved it! Great fun for the kids.
Enjoy a boat ride with the kids at the Cano Negro Wildlife Reserve. You will have a great time spotting the sloths, monkeys, toucans, iguanas and more! This relaxing boat ride is a great way to see the wildlife. Stop at Las Iguanas restaurant on the way and see the hundreds of iguanas hanging out on the tree.
Don't miss out on tasting the delicious Costa Rican food.  Eating is one of the best things to do in La Fortuna. Gallo Pinto is a delicious rice and bean dish served for breakfast. Fried plantain are sure to be a hit with the kids. Fresh fruit such as pineapple, melon and papaya are a sweet treat.
Rappeling or canyoneering is one of the adventurous La Fortuna activities for teenagers. You can rappel down a series of waterfalls in the area. Your guides will train you on how to descend and on the use of the safety equipment. Recommended for ages 13 and up. This is one of the most adventurous things to do in La Fortuna.
More articles to help you plan:
---
| | |
| --- | --- |
| La Fortuna Hotels | Costa Rican Food |
---
Home

›
Costa Rica

›
La Fortuna