10 Best Things to do in Yangshuo with Kids

Don't Miss our Guilin Guide to Plan your Family Trip to Yangshuo!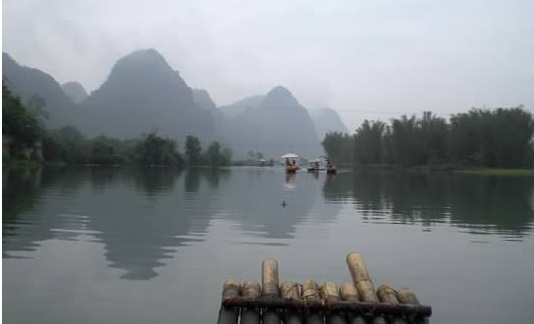 Yangshuo with kids is AMAZING! From cooking classes to rafting and more kids will love visiting this amazing part of China! If you are wondering which part of China to take you kids to this is it!
We took a bamboo raft ride down the Yulong river. My kids loved going over the mini waterfalls and having a go at steering the raft themselves. It is maximum 2 people per raft so we took two rafts. There was a bit of a drizzle but it just made the karst mountains look more mystical! The scenery is stunning with the mountains, ducks in the river and farmers working on the side of the river. In the hot months kids can have fun using water guns to drench the passing rafts.
Stroll around this picturesque town and head to West Street to buy souvenirs and try out one of the many restaurants. My kids got their names engraved in Chinese and English on the seal with their Chinese zodiac animals. They come with red ink for stamping. This is a unique souvenir. We also strolled through the park and played on the exercise type playground equipment. There is a few amusement park rides for young kids there as well.
Rent some bikes and explore the Yangshuo countryside. Many hotels offer bike rentals and there are some areas around West Street that offer rentals too. Child bikes are difficult to come by and the roads can be narrow and hilly so this is best suited for teenagers and older children.
Head to Shangri-la Park. This is an interesting place to visit with kids. You board a boat take a ride up the river. Along the way you will see exhibits of the minority groups with dancing and cultural activities. Afterwards you can watch the artisans exhibit their traditional crafts and do a bit of shopping as well.
More Yangshuo with Kids
Cultural Activities + China Country Facts + Country Games + Coloring + Fun Quizzes and more for kids 4-13!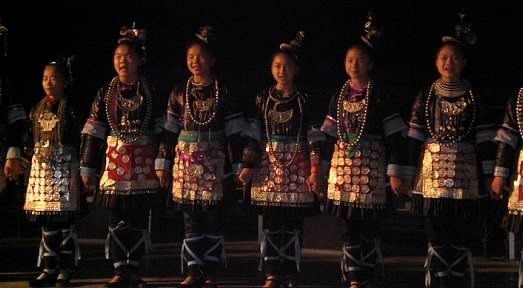 Impressions Liu Sanjie is one of the best things to do in Yangshuo with kids. The director of the Beijing Olympics opening ceremonies is the creator of this broadway quality show. There are hundreds of kids, adults and animals that take part every evening in the show. The show takes place right on the Li river and it lights up the area. There is a discount for young children. We watched this show and highly recommend it! It was one of the most visually stunning things I have ever seen (even with the uncomfortable seats!). My kids really enjoyed it too.
Another great thing to do in Yangshuo with kids is to take the motorized bamboo rafts down the river from Xingping. Give the kids a 20 yuan note and they can search for the karst mountain that is featured on the bill. Rafts can hold 6 people. Xingping has a market with fruits, vegetables and some eye-opening cuts of meat. There is also some household items and clothing on sale here too. Not much for us tourists to buy but an interesting experience none the less.
Silver Cave is a huge limestone cave with lots of pools of water and stalactites hanging down. It takes about an hour to explore it. It is worth fighting the crowds to visit here as it really is pretty. There are many caves to explore in the area including a mud cave that teenagers will love as they can roll around and get dirty!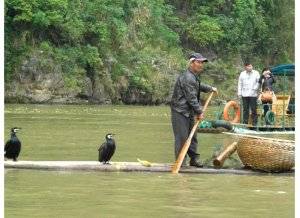 Most evenings there is a Cormorant Fishing Show. You board a raft and follow behind a fisherman as he demonstrates how the birds catch the fish.
Chinese food for kids includes noodles and soups! There are many delicious foods for your children to try in China. Dumplings are most kids favorites! There is an egg dumpling filled with meat that is a real treat here! Read more here!
Cooking classes in Yangshuo are a must do! Children are welcome at the Yangshuo Cooking School . Start by heading to the local market to pick out the fresh ingredients for your meal. You then are taught how to prepare several local dishes. And then the best part is you get to eat the feast you've created!
Head to the nearby town of Fuli which is famous for fan painting. You can walk the streets and get inspiration from all the master crafters. Then join in a fan painting workshop and take home a masterpiece of your own. This is a fun activity for kids!

Plan your family trip to China here!Enjoy your time if Yangshuo with kids!
---
Home

›
China

›
Yangshuo