Best Yangshuo Family Hotels
Your 2018 China Family Travel Guide
Are you ready for our top Yangshuo family hotels?
Yangshuo should be on your list for places to visit in China with kids! There are several options for Yangshuo family hotels and best of all, they are all reasonably priced. Some are in the peaceful countryside with beautiful views and others are located in the heart of it all near the famous West street.
---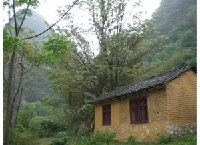 Yangshuo Outside Inn
Jima Chaolong Village, Yangshuo County, Hotel Website
Yangshuo Outside Inn is an excellent choice for families. We stayed here and loved it! This peaceful hotel consists of renovated farmhouses and is located just 4 km from town in the beautiful countryside. The owners and staff are friendly and hospitable (I got sick while there and they made sure the kids were fed for me). There is a restaurant on site offering tasty local foods and familiar foods from home.
For the Kids:
Pool table
Ping pong table
Loads of lego
2 Lovable weiner dogs!
DVD room for the kids!
Fits a family of:
They have various size

rooms for families of up to 5 people.

---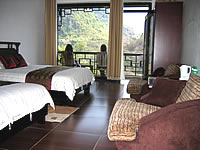 Li River Retreat
No.1 Shuang Village, Yangshuo County,
Li River retreat is located 2 km from the town and offers stunning views of the karst mountains. . There is a restaurant on site serving western and Chinese food that you can enjoy on the terrace with amazing views! This hotel is family run.
For the Kids:
Wi-fi is available in the rooms.

Cots/Cribs available if you are travelling with a baby

Lots of child-friendly options on the menu!
Fits a family of:
Several rooms that have a queen & single bed and another bed can be added.

---
Yangshuo Mountain Retreat
Wang Gong Shan Jiao, Feng Lou Cun Wei, Gaotian Zhen, Hotel Website
Yangshuo Mountain Retreat has great views of the Yangshuo countryside. This hotel gets back to basic with home made bamboo furniture and locally sourced bathroom amenities.
For the Kids:
Rooms have a DVD player

Minibar to store snacks!

Family tours including

one where you can visit a local family or one where your kids can try fan painting! (fee)
Fits a family of:
Quad rooms that can sleep a family of four.

---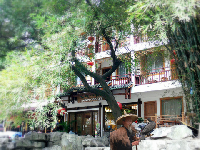 Rosewood Inn
No.21 Guihua Road, West Street, Hotel Website
Rosewood Inn is one of the Yangshuo family hotels that is centrally located  near the Li River. Most rooms have a view of bamboo and a small stream. The rooms are decorated in Chinese traditional style. It is located in the town so you will have easy access to the restaurants offering hot pot, dumplings, and even a KFC.
For the Kids:
Close to the park in town with fun play structures.
Finds a family of:
Quad family suites available that can sleep a family o

f 4.

Cultural Activities + China Country Facts + Country Games + Coloring + Fun Quizzes and more for kids 4-13!
---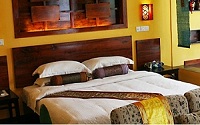 Magnolia Hotel
No.7 Diecui Road, 
Magnolia . This hotel is conveniently located only 2 mins walk from West street. There is a laundromat across the street. West street is a bustling place with lots of interesting souvenir shops and restaurants serving local and international cuisine. One of the best Yangshuo family hotels!
For the Kids:
Walking distance to the park with several amusement rides and playground equipment

Lots of shops with trinkets nearby!
Fits a family of:
Family suites that can sleep a family of 4

---
More Yangshuo Family Hotels:
---
Plan your visit to China with children here!
---
---
Home

›
China

›
Yangshuo Hotels