Best Things to do In Sharm El Sheikh with Kids

Egyptian Holiday Ideas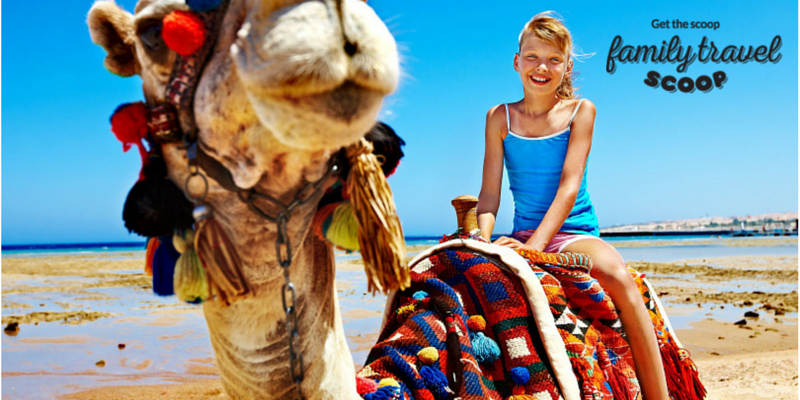 With all the amazing things to do in Sharm El Sheikh with the kids you will have an unforgettable Egypt family vacation.
Beautiful beaches, camel rides and spectacular marine life are some of the best Sharm El Sheikh activities you can enjoy on your family travels in Egypt with your children.
The beaches are quite nice though sometimes filled with jelly fish. A glass bottom boat ride is great for babies, toddlers and kids. Teenagers will enjoy the fab shopping!
You will have lots of choice for family friendly sharm hotels to choose from. There are many all-inclusive hotels in this area that come complete with meals, accommodation and entertainment.
Or if you prefer room only hotels then you can choose from budget hotels all the way up to 5 star accommodations.

Cultural art and activities + games + travel quizzes + food and much more
The Best Things To Do in Sharm El Sheikh With Your Family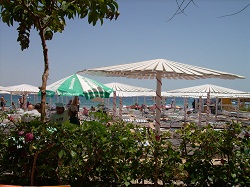 The Red Sea is known world wide for its diverse marine life. A glass bottom boat ride is one of the best things to do in Sharm El Sheikh with kids. Head to the dock in Naama Bay and you can barter with the ticket operator (kids discounts!) for a trip out. Most boats also offer the option to do some snorkeling.There is also a submarine (semi immersed) with great views of the sea. My kids and I did this when we visited and they we thrilled seeing all the tropical fish.
Cleo Park is fun for the whole family. This water park is Egyptian themed and has slides, a lazy river and kids play area. This is a great way to cool off from the Egyptian sun.
Go Karting is available in Sharm El Sheikh. Children as young as 7 (minimum height 1m50cm) can drive the carts and there is two seater karts available. This is one of the thrilling things to do in Sharm El Sheikh with your little daredevils.
Don't miss out on eating the delicious Egypt food while on your family travel to Sharm El Sheikh. Kids will love sampling the different mezze and eating koshari.
Head to the beach and the kids will have fun playing in the sand. Depending on when you go there may be jellyfish in the sea though most will not sting.When we went there was lots of purple jellyfish and it was a bit unnerving to swim in there. Although this is not always the case so cross your fingers for jellyfish free waters.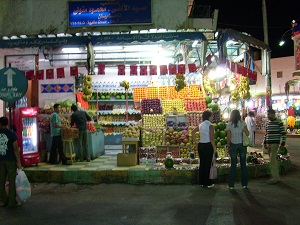 The Old Market is a great place to experience a local Egyptian market. You can take in the sites and smells of this place with your family. The kids can practice their haggling skills for some souvenirs such as stuffed camels, bracelets and belly dancing outfits.
Do some snorkeling with the kids. If you can buy a proper fitted mask before you go it will make a world of difference. The kids will have a blast swimming with the fishes! One of the most interesting things to do in Sharm El Sheikh with kids-explore the fascinating marine life.
Another of the fun things to do in Sharm El Sheikh is to do an excursion into the desert to watch some Egyptian entertainment. Lots of local tour operators offer this trip. There is usually an evening meal. My kids and I went one evening and had a great time. The kids went on camel rides. We enjoyed relaxing on the pillows in the Bedouin tents and watching the belly dancers and whirling dervish dances. My kids were amazed that they could still stand after all that spinning!
Take a trip to the Ras Mohammad National Park with the kids. You can go on a boat or land tour. If you are traveling with young children it will be better to go by land as the watercan get quite choppy. You can wade in to the water by the reef for some excellent snorkeling. This is a great way to enjoy the natural beauty of the Sinai Peninsula.
If your children are PADI certified they will have a great time scuba diving around Sharm. The diving in the red sea is some of the best in the world. Lots of the dive centers offer introductory lessons for children as young as 10.
Children will enjoy horseback riding through the mountain trails or deserts nearby. Or if the kids prefer they can do a camel safari instead.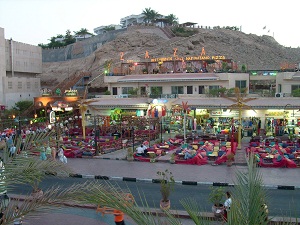 Take a stroll around Naama Bay with the kids. Lots of interesting souvenir shops, restaurants and cafes. All the chain restaurants are here such as McDonalds, Pizza Hut and a Hard Rock Cafe.
Your teenagers will love hanging out in the evenings at the open air shisha bars. Be prepared as some vendors are quite aggressive. Your family will get a kick out of some of the sales pitches.This place is definitely more lively in the evenings. We went into Naama Bay one morning for breakfast and almost everything was closed.
Head out to the desert for a stargazer night. There are several local companies offering the service. Most companies include a camel ride, dinner, entertainment and powerful telescopes to view the stars and planets through. This may be better suited for older children and teenagers as it quite a late night. Pack a sweater if you are traveling in the cooler months. This is one of the most unique things to do in Sharm El Sheikh with your family.
Soho Square is a fun family friendly complex with a skating rink and bowling alley for the kids to enjoy. There is also a kids arcade with lots of kiddie rides and games. There is also a soft play area for toddlers and young children to play in with a ball pit and slides. This complex has several shops (more expensive here then in Naama Bay) and restaurants.
Plan a day or overnight trip to Cairo. There are lots of fantastic things to do in Cairo with the kids. The pyramids and the Egyptian Museum are must-dos. Kids will enjoy the animal mummies and King Tut's toys.
Head to Luxor for the day or overnight. There are many things to do in Luxor with the kids such as a ride on a Felucca boat down the Nile or a visit to the Pharaoh's tombs in the Valley of the Kings. 

Home

›
Egypt

›
Sharm El Sheikh