Unforgettable Luxor Holidays with Kids

Cultural art and activities + games + travel quizzes + food and much more
Luxor holidays with kids are filled with fascinating history and memorable sights to see. There are lots of cultural things to do in Luxor with your kids including temples, mummies and a boat ride on the river Nile.
I went to Egypt with my kids and we adored it. We did a day trip from Sharm to Luxor and it was our favorite part of Egypt. I wished we had spent a few days in Luxor though one day was definitely better than missing out.
If you are looking for family-friendly Luxor accommodations there are several excellent choices in all budget ranges.
One of the best ways to explore Egypt with your kids is to check out the sights in the morning before it really heats up and spend the afternoons relaxing at the pool. Be sure to have lots of bottled water, sunscreen and hats for everyone. A small wet towel in a plastic bag can be useful in helping to cool down when you out sightseeing in Luxor.
Best Luxor Holidays Attractions

A visit to the Temple of Hatshepsut is another amazing cultural site to visit with the kids. Your daughters will be inspired to learn about this once powerful female ruler in Egypt. This temple is stunning as it is built into the cliff side. My kids had fun playing with the musical instruments they bought from the vendors in front. The guards were happy to demonstrate the instruments to the kids (for a small tip of course!).
Karnak Temple is a must do on your Luxor holidays. Amazing history and fascinating culture. Make sure you have a child friendly guide who can engage the your children. Your kids will like checking out the huge columns with hieroglyphics. Try and learn some hieroglyphics before you go and see if the kids can recognize them. Don't miss the huge granite scarab (beetle). Children can run around it three times, as legend has it you will have eternal happiness if you do! In the evenings there is a light and sound show at the temple that is voiced by the Pharaohs. It is rather cheesy but the kids will get a kick out of it and they can learn more about the Egyptian history.
Hot Air Balloon rides are a fun way to see Luxor. There are several companies offering this service. Be sure to check the safety record of the companies before booking. This is better suited for older children as they will need to be able to see over the basket. The flights are early in the morning so make sure you have something warm to wear.
Space Observers is one of the most unique things to do in Luxor with kids. Head out to the desert in the evening where you will be greeted by a Bedouin family. Have drinks or even an Egyptian meal on this tour. There are two powerful telescopes where you can do some star gazing and also check out the moon and some planets. Both teenagers and young children will love this acativity. You can arrange this by emailing: space.observers.luxor@gmail.com
Don't miss out on sampling the delicious Egyptian food while on your Luxor holidays. Children will enjoy eating the koshari and sampling the different mezze.
Children will get a kick out of a donkey ride while on your family Luxor holidays. These adorable animals are surprisingly strong. There are several tours that involve donkey rides through the country sides or to some of the Egyptian sights. You can also arrange horse or camel rides.
Head to the souq for some souvenir shopping. Kids will have fun practicing their bartering skills with the friendly vendors. There are lots of cool knick knacks to buy here such as scarab beetles, jewelery and belly dancing outfits.
The Luxor museum is an interesting Luxor attraction for kids. This well laid out museum has two mummies to view and lots of interesting artifacts. There are lots of descriptions in English (and Arabic) of each piece. There is also a short film you can watch at the beginning to provide you with some historical information.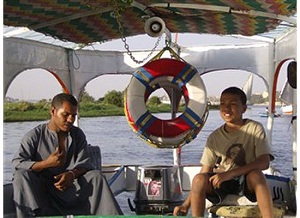 A felucca ride on the river Nile is one of the best Luxor attractions while on your family travels to Egypt. The scenery is stunning especially when the sun sets. We did a sunset tour with dinner through Real Life Egypt Tours and it was one of the highlights of our Luxor holiday. We ended up on the Bob Marley boat (which my kids loved as they are half Jamaican) and the staff were amazing. We stopped on the banks and rode the donkeys and my son even drove the boat a bit. We had the most delicious home cooked meal brought to us from the river banks. It was a feast (and no, nobody had any stomach problems). This is a great way to relax after a day of sightseeing.
Luxor temple is another historic sight to check out with the kids. The kids will have fun seeing the avenue of rams that once ran all the way to the Karnak temple. Again a good guide is necessary to explain the fascinating history. If you want to beat the heat and crowds then head there as the sun is going down and the temple is lit up by flood lights.
Valley of the Kings is another one of the interesting things to do in Luxor with your budding Egyptologists. You can visit three tombs and for a separate fee you can see King Tut's tomb and mummy. My kids found it very interesting to go deep into the tombs and see the different carvings and paintings on the wall. Younger children will be thrilled riding the tram from the entrance up to the tombs. This Luxor attraction is best visited in the morning when traveling with kids to beat the heat and crowds. When you are done your sightseeing for the day, have your children recreate some of the artwork they have seen (pack art supplies with you)!
If your children are animal lovers than head out to ACE Animal Care Egypt which is a charity organization which aims to educate the local population about animal abuse and to provide free veterinary services. Your kids will get to see lots of the cute animals such as donkeys, cats and dogs. Donations are welcome. The facility is located in the gorgeous Egyptian countryside.
The mummification museum is a great place to visit on your Luxor holidays with kids. Your family will learn all about the mummification process. Children think the animal mummies are very cool -my kids really like this place!
Home

›
Egypt

›
Luxor Vacations