17 Things To Do in Havana With Kids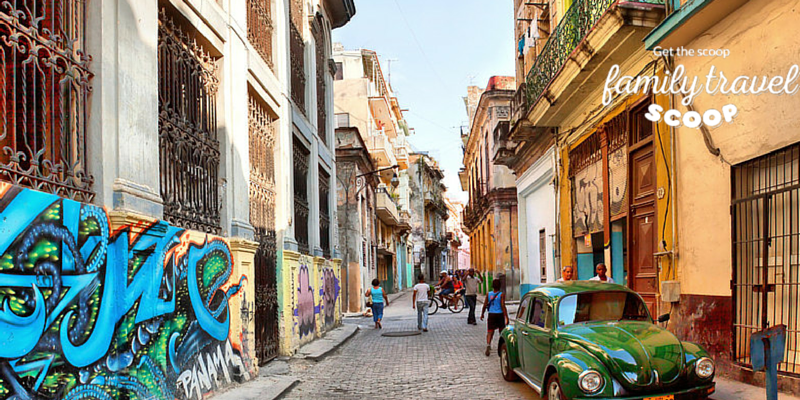 Havana was our favorite part of Cuba. There are so many fun things to do in Havana! This is a fascinating city where you feel like you are stepping back in time! The architecture is amazing and it's a photographer's dream! There is lots to keep the children entertained as well. Babies and toddlers will be fascinated seeing the brightly colored artwork at Callejon de Hamel. Kids will enjoy a walk along the Malecon (waterfront) where they can see the fort as well as the steam train. Teenagers can shop til they drop in the big souvenir market.
Havana is in easy to reach from Varadero. You can catch the viazul bus and be in Havana in 2.5 hours. These buses are quite comfortable and have a bathroom on board. There is a 10-minute break halfway with a stop at a snack bar. The tickets are 10 pesos each (2010) and small kids pay half price. If you get off the bus at the first stop in Havana (just after the tunnel) you will be near the fort and Malecon waterfront.
Taxis are readily available all over Havana. We were able to squeeze 5 people into the taxis with no issues. Be sure to negotiate your price. We paid 5-7 pesos for most rides.

Havana Attractions for Kids
Fun Things to Do in Havana!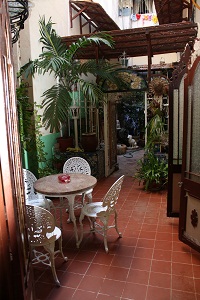 Be sure to book one of the Casas Particulares for an overnight visit. These are rented rooms in a Cuban household and are usually located in one of the beautiful colonial buildings. Most Casa Particulares rent out 2 rooms and cost approximately 30 pesos for a room. Most will offer a home cooked dinner or breakfast for a fee. We booked through Luis at Casa 1932. His was already booked but he referred us to a lovely one nearby. My kids loved this experience! Certainly one of the best things to do in Havana with your kids!
The kids will enjoy a ride on a horse and buggy. You can book a tour with one of the drivers for a few hours when the kids are tired of walking. Your whole family will enjoy visiting all the fun things to do in Havana this way.
The National Zoo is home to animals from around the world including zebras, elephants and monkeys. You can board the small train with your kids for your tour of the zoo. This is one of the exciting things to do in Havana with toddlers and small children. The zoo is opposite the main Viazul bus station.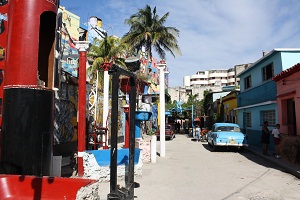 Don't miss out on visiting Callejon de Hamel. My kids loved this place. It is an alleyway that has been converted into a work of art. It features Afro Cuban artwork with colorful murals, converted bathtubs, metal bugs and even a doll embedded in the ground. The best day to visit is on a Sunday as there is live music playing. Your teenagers will enjoy it here!
Explore Old Havana where you will see unforgettable architecture. The pastel painted colonial buildings and cobblestone roads are fun to visit with the kids. Don't forget your camera.
Go for a ride in one of the classic cars and explore the streets of Havana. These cars are roomy and can easily fit a family. See if you can find a convertible one!

Cultural Activities + Word Searches + Colouring Pages + Fun Travel Quizzes & More!
Take a stroll along the Malecon or waterfront and check out the views of the Havana fort. You will see fisherman along the way as well as kids playing in the rocks along the sea front. There are some interesting buildings to check out along the way.
Museo de la Revolución is a fascinating museum that will keep the kids interested. It mainly had artifacts from the Cuban revolution period. The building is an old presidential palace. In behind the museum is a glass building that houses the yacht that Fidel Castro took from Mexico to Cuba for the revolution.
Parque La Maestranza is fun and one of the best things to do in Havana with the kids. Located opposite the Malecon in Old Havana, this amusement park has lots of rides for the kids as well as playground equipment. It currently is only open on the weekends.
There are several varieties of fish to see at the National Aquarium as well as a sea lion show. You may want to skip this if your kids have visited aquariums before as there is not much to see.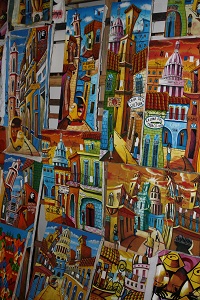 The souvenir market in Havana is really good. It is like visiting a free art gallery! The paintings are really colorful and there is a great selection to choose from. This was one of my favorite things to do in Havana. There are lots of other souvenirs such as girls dresses, jewelery, wood carvings and brightly colored paper mache toys. Teenagers will love this place!


A visit to Coppelia's for ice cream is a must do when in Havana with kids. The line ups may be long but its worth the wait for these delicious creamy treats. My kids loved the coconut ice cream! There is a nice park to relax in and enjoy your treat. One of the best things to do in Havana with children.


Museum of Natural History is a great place to visit when you travel to Havana with kids. This museum showcases the flora and fauna of Cuba. It is located in Old Havana near to Plaza de Armas which has a small park.


Head to El Aljibe for dinner. This restaurant serves delicious grilled chicken with an orange sauce with unlimited white rice, black beans, plantains, fries and salad. The grilled fish is very good as well. There is no children's menu however kids can split a meal. They have Coppelia's ice cream for dessert.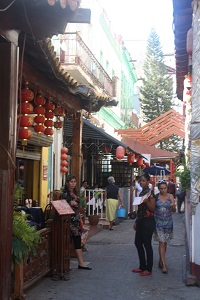 Head to China Town for a bite to eat. There are several restaurants along this street. The food is quite tasty and reasonably priced. Be sure to check the cost of drinks before you order as they were not listed on our menu and we ended up being billed 3X what other restaurants charge. You can walk to the nearby National Capital Building from here.
Visit the National Capital Building and you can see this former home of the Cuban government prior to the revolution. Your kids will enjoy seeing the world's third largest statue. There are also some old steam trains in the side yard. In front there is a lovely park with lots of shade and benches to relax in. You can do some people watching here!
Take a stroll with the kids through the Botanical Gardens in Havana. Check out the beautiful flowers and plants. Don't miss the Japanese gardens and waterfalls.
More Cuba with kids resources:
---
Kid's  Guide

Kids learn about the culture, food, language of Cuba!

Cuba Food

| | |
| --- | --- |
|  Family Hotels |  Attractions |
---
Home

›
Cuba

›
Havana