Single Parent Cruises
A Holiday at Sea for Everyone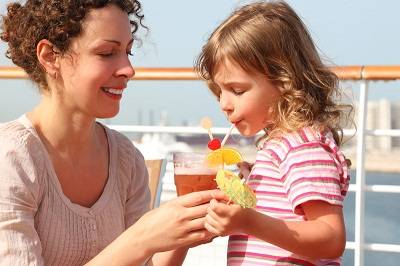 If you're a single parent and thinking about taking a cruise with the kids, there's few things you'll need to think about before you go. You'll need to check all the cruise lines to find one that specializes in single parent cruises.
Not just because you're single, but because they put together a package that include the kids, meals for both, activities, and outings geared for both the parent and the kids.

Most of the time when kids go on vacation they just want to enjoy themselves in the pool and other things they never get to do at home. When you choose a single parent cruise you not only get to have adult company but there is always someone to watch the kids while you do grownup things.
Single parent cruises are great for the parent and the kids because there are no roads to travel, except getting to the ship, no move luggage around the airport to hotel and back again. Also, the major cruise lines have packages for single parent all wrapped up into one price.
You get to have the evenings off while the kids are entertained by the excellent staff of kid sitters. You can go off and enjoy dancing, dining and enjoying yourself while the kids join the other kids on board. The environment is safe with a lot of extra kids for your kids to enjoy. Most cruise lines have free valet laundry services, strollers, and food especially suitable for kids. they won't stick their noses up to any of the dinners offered to them.
The cruise lines also have kid's clubs that have activities and games to keep the little ones happy and occupied. The cruise world has the Disney Cruises, P&O, and Star cruises with activities that include a cinema, video arcade, free pagers, ID bracelets, and water games.
All major cruise line put a lot of thought into the package deal for single parents. To keep your peace of mind about the safety of your kids while you're off enjoying yourself and the kids and enjoy themselves.
Don't forget to check out our cruise packing list here!

Recommended Cruise Lines

Here's a list of the liners that offer single parent cruises.Carnival Cruise Line -Carnival cruise lines are the leading in single parent cruises. Their package is geared to the kids and single parents through their Carnival Kids Program. They specialize in kid's entertainment. Check their website for a list of cruise dates and destination.They also have a program called Camp Carnival. This includes arts and crafts, scavenger hunts, deck games, and talent show with specifically qualified youth counselors. The teens get to go ashore at night to visit the dance clubs while the babies enjoy a stroller ride with high trained babysitters. You get to enjoy yourself – worry free.
Parents without Partners Cruises is a tour agency based in the US that arranges cruises to the Caribbean. See www.parentswithoutpartners.com for more or write to 1650 S. Dixie Highway, Suite 510, Boca Raton, Fla. 33432, USA.
Premier Cruise Line offers deals at 125 % off the fare for single parents. They have 4 different kid's clubs on board that specializes in treasure hunts, theatricals, sports, dances, and ice cream parties. The kids even get to dine with the captain!
Vacations to Go

These ships offer

a

cruise for single parents in early 2005. Keep a watch out on 

th

eir website for a repeat that includes port activities for kids and parents. They sail from Miami.

www.vacationstogo.com/singles.cfm 
More Travel Tips

Home

›
Best Cruises

›
Single Parent Cruises