Mundo Milo Eco Lodge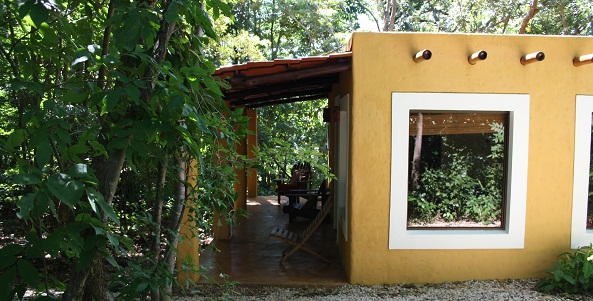 Stay at the lovely Mundo Milo in Playa Junquillal Beach if you are looking for a nice relaxing and affordable eco hotel for your family!
The hosts Michiel & Lieke have built this eco retreat with special consideration to the environment. The cabins are gorgeous with 2 double beds, high efficiency air conditioners and spacious bathrooms. There is even a little porch to relax on and listen to the howler monkeys!
This is a small place with 2 Mexican themed cabins and an African-themed one. There is a Persian themed cabin in the works. The restaurant and lounge area is a gorgeous open air space with a small infinity pool to cool off in! Michiel and Lieke have built an amazing place to stay!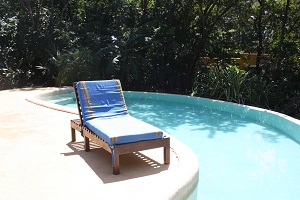 In the evenings it gets a bit livelier with more people stopping in for drinks or a meal. Lieke is an excellent cook-the food here is delicious! We started with her smoked chicken and pumpkin soup with baked bread and garlic butter-yum! The fresh fish dishes were a hit as well! We also sampled several dessert dishes which were all delicious. Michiel acts as the evening server and we really enjoyed his humour!
My children loved the breakfast that is included in your stay. Fresh fruit, juice, rice and beans and eggs or pancakes! Fresh brewed Costa Rican coffee for the parents.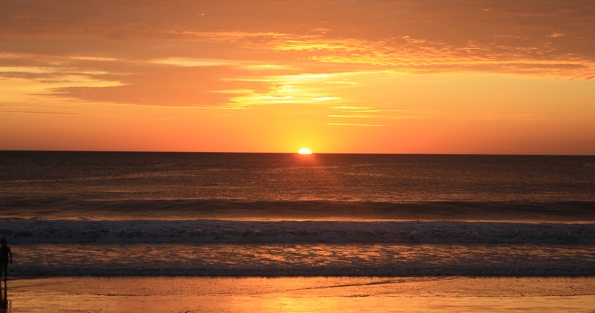 More About Mundo Milo
Junquillal is a quiet area about 30 minutes from Tamarindo. You can walk to Junquillal beach from Mundo Milo. The currents are quite strong so not recommended for swimming , especially with the kids, but it is a nice black sand beach to play on. Be sure to visit for the sunsets-they are amazing. There is a nice little beach bar to enjoy a drink and the view!
Playa Avellanas is about 15 minutes drive away. It is a popular beach in the area where you can go for long walks down the beach. There is a great beach restaurant named Lola`s there serving up really good food. It is famous for its pet pig, Lolita! My kids loved seeing this huge pig hanging out in its pen. They make really good smoothies!
There are several restaurants in walking distance to the hotel (although the food is so good at Mundo Milo you might not want to leave!). On the road along the way to the beach be sure to stop at the pulperia (small grocers) for a homemade ice cream treat! They are made with soy milk and fruits-delicious!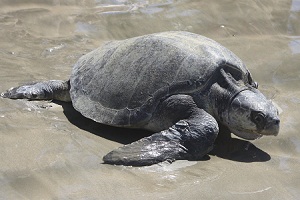 The turtles nest in this area, and the hotel can arrange for a night tour for your whole family to see the process. Other tours in the area can be arranged including a swimming with the sea turtles experience or kayaking if you have older kids.
There is plenty to see and do in Tamarindo (about 30 minutes drive) if you are looking for a little more action, but you can come back to your peaceful retreat and get a chance to experience a real piece of paradise in Guanacaste! There is nothing better than waking up to the sound of howler monkeys nearby!
So if you want to get away from it all-this is the place to be! You will be welcomed by friendly owners who will make you feel right at home!
Hotel Info:
Playa Junquillal, Guanacaste Region

---
Costa Rica with Kids? Info to help you plan:
---
| | |
| --- | --- |
| Guanacaste Fun | Guanacaste Hotels |

| | |
| --- | --- |
| Costa Rican Food | Costa Rica with Kids |
---