Things To Do In Guanacaste With Kids
Are you ready for our Top Fun Things to Do in Guanacaste with Kids?

There are so many things to do in Guanacaste with your family! Here are our top choices!
Visit the beaches. The coastline has lots of different beaches to check out. Many with beach sports, activities and restaurants. Be careful of the rip tides though-it can be quite dangerous for children to swim at some.
Playa Avellanas is a great spot for kids (about 30 minutes from Tamarindo). It has a lively beach restaurant , Lola`s, serving delicious food and featuring Lolita the resident pig! We hear she sometimes goes for a run along the beach! My kids loved her!
Rincon de la Vieja is a great spot to visit with children! Take a tour of the volcano, relax in a hot spring, have a mudbath and enjoy some ziplining!
Las Pumas is an animal sanctuary for rescued wild cats, birds and monkeys. It is a great spot to stop by if you are in the area (Hwy 6 and Hwy 1). It is a small place so you won`t need more than half and hour to an hour to explore. Entrance fee is $10 Adults and $5 for children.
We love Costa Rican food. My kids couldn`t get enough of the rice and beans. We stopped by several sodas (local restaurants) for casado`s. This is a typical local dish of beef, chicken or fish served with rice and beans, salads and a few sides such as plantain. Delicious! Do not miss to try Costa Rican food as one of your fun things to do in Guanacaste with your kids!
Family Attractions in Tamarindo
Tamarindo Beach is where all the action is at! There are lots of vendors offering jewellery, pottery, drinks and my favourite-Happy Hour: 2 for 1 Pina Colada`s, delivered to you on the beach! You can rent surf boards and boogie boards across the street, as well as loungers and umbrellas on the beach. Our friend`s baby had a blast playing in the sand!
Cultural Activities + Word Searches + Colouring Pages + Fun Travel Quizzes & More! 

Mangrove tours are available. Explore the estuary where the sea meets the river and see wildlife such as birds, monkeys and crocodiles on this boat tour.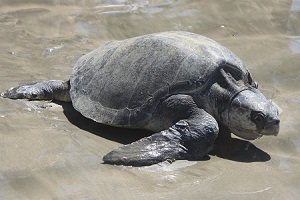 Sea Turtles lay there eggs along the beaches in Guanacaste You can join a night tour from October to February to see the turtles laying their eggs or hatching! The turtles come ashore and lay their eggs in the sand. Volunteers move the eggs to a special protected area so they are safe. We had the good fortune of seeing a turtle laying her eggs right on Tamarindo Beach during the day.
Make your own pottery! Kids will love creating their own souvenir under the guidance of a local artist. You will need about an hour a day for 3 days and a 4th day to pick it up! The studio is located right in Tamarindo. Day 1 you mold your clay, Day 2 you paint and polish it, Day 3 you finish hand polishing. Day 4 you pick up your fire kilned masterpiece!
Ziplining is always fun in Costa Rica! There are several course available in the area, you can book from one of the local tour operators in Tamarindo or through your hotel.
Learn to surf at Tamarindo Beach! This is a great spot to learn. My kids got a lesson here for $20 each and they all were riding the waves soon after. They loved it! You can also book a surf camp for a day or week from one of the many surf schools here.
Horseback riding through the Costa Rican countryside is a must do! My children loved doing this in Costa Rica. It is a great way to explore the hills, valleys and farmlands! Many local ranches offer horseback riding tours for families.
---
More info on Costa Rica!
---
| | |
| --- | --- |
| Guanacaste Hotels | Manuel Antonio Fun |
---
Home

›
Costa Rica

›
Things to do in Guanacaste