Best Marrakech Riads and Hotels For Kids


We have found the best Marrakech riads and hotels for your family trip. Riads are traditional Moroccan houses that usually have plain exteriors and beautiful interior courtyards.
There are many riads to choose from for all budgets.
Riads are usually beautifully decorated with traditional accents. Some may have plunge pools to cool off in and rooftop terraces where you can enjoy breakfast or mint tea in the afternoon.
Some riads do not allow children. If you are traveling with toddlers or small children you will need to keep a close eye on them as they are not always child proof.
There are also several standard hotels to choose from when you are traveling with your family in Marrakesh. We can recommend several cheap family hotels all the way up to luxury accommodations.
There is also a few all inclusive family resorts too choose from with all your meals, drinks and entertainment included.
This is a wonderful city to travel to with your family. There are lots of fun things to do in Marrakech with kids. A visit to the vibrant Jemaa al Fna square will keep your kids entertained with the snake charmers, acrobats, musicians and vendors. Explore the alley ways of the souks in search of souvenirs.
You can also head into the desert to do some sand duning with the kids.
Budget Marrakech Riads For Kids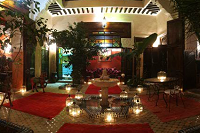 Riad Harmattan
offers family suites that can sleep a family of 4. This cheap child friendly Marrakech riad is located close to the square and has beautiful views of the Atlas mountains.
They have games you can play together around the fireplace in the lounge in the cool months. Cooking classes are also available. The rooms are spacious and clean with lovely Moroccan artistic flair. Your family will love the sweet mint tea and home baked cookies served on the rooftop terrace!
Check Rates & Reviews
---
Riad Zanzibar
offers family rooms that can sleep 5 as well as quad and triple rooms. This cheap riad has an interior courtyard with a plunge pool. Great for cooling off after a day under the hot Moroccan sun. It is centrally located near to Jemaa el Fna square, but down a quiet alley so you can escape the madness of Marrakech. Mom & Dad can enjoy a massage here too. Breakfast is served on the rooftop terrace. The riad has a lovely decor, so even those on a tight budget can enjoy a stay in a traditional riad.
Check Rates & Reviews
Moderate & Luxury Marrakech Riads For Families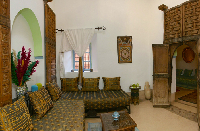 Riad Karmela
is a nice Riad for kids (must be older than 4). It is located very near to the souk and a few minutes from the square.
There are family suites available that can sleep a family of 5. They have a plunge pool here and Mom & Dad can enjoy a massage or use the traditional hammam for a bit of relaxation. The riad has 3 courtyards and a terrace where you can enjoy breakfast or dinner.
Check Rates & Reviews
---
Riad Boussa
is one of the child friendly Marrakech riads. It offers a family suite with 2 king beds. It is a few minutes away from the souks and square and located in a peaceful alley.
A tasty Moroccan breakfast is included. Wireless internet is available throughout the riad. You can enjoy a meal around the fireplace in the cooler months or on the terrace in the summer months.
Check Rates & Reviews
---
Riad Africa
has a quad family suite available. This beautiful riad has all the beauty of a traditional home but with modern comforts.
The kids can plug in their ipods in the docking station, keep in touch with friends back home with the wi-fi connection and you even have the use of a mobile phone to keep in touch with the staff when you are out! There is a lovely courtyard pool and rooftop terrace to relax and escape the hustle and bustle of Marrakech! You are only a few minutes walk to the square where all the excitement is!
Check Rates & Reviews
---
b>Maison Africa is great for families looking to rent out an entire riad. This beautiful family accommodation can sleep up to 9 in 3 bedrooms or you can rent the rooms individually.
It is located in an ancient medina about 10 minutes away from the main square. It has a gorgeous terrace with views of the city. The terrace is a great place for breakfast surrounded by orange trees. The riad has a beautiful tiled fountain and plunge pool.
Check Rates & Reviews
---
Riad Oumaima
is an affordable child friendly Riad in Marrakesh. It offers ground floor family suites that can accommodate a family of 4 to 6. It has a heated plunge pool and free wifi. It is about 10 minutes walk from Jemma el Fna where you can explore the souk, dine at the restaurants and watch the live entertainment in the square. A hearty breakfast is included to start your day. This riad is also located at the start of another market where you can shop to your heart's content. After a day of sightseeing you can relax in the communal lounge and watch a movie or tv.
Check Rates & Reviews
---
Riad Jardin Secret
(or secret garden) is a family friendly riad with rooms that can sleep 2 adults and 2 kids. It is located in the medina near to the famous Jemaa el Fna square. This riad has toys and books for the kids to play with, If you are traveling with a baby or infant you can use the baby cot and stroller provided here. Start your day with a yummy breakfast. You can use the swimming pool at a nearby private villa. Wi-fi is available so you can keep in touch with everyone back home.
Check Rates & Reviews
All Inclusive Marrakech Family Resorts

Riu Tikida Palmeraie
is one of the best all-inclusive Marrakech family resorts. It has a kids pools, playground and kids clubs (ages 4-12) to keep the children entertained. Interconnecting rooms are available. Only 15 minutes drive to the souks and main square. There is a large outdoor pool and an indoor pool for the cooler months. There is a free wireless internet zone or you can have wifi in your room for a fee.
Check Rates & Reviews
---
Decameron Issil
is a fun Marrakech all inclusive family resort. It has 3 pools and lots of activities to keep the kids entertained. The rooms can sleep 2 adults and 2 children. The hotel is a ten minute drive from downtown.
Check Rates & Reviews
Prefer a Hotel?

Cheap Marrakesh Family Hotels

Hotel El Kennaria
is a budget family hotel that offers quad rooms. You can walk to the famous square from here. There is a Moroccan style courtyard where you can enjoy breakfast or relax after exploring Marrakech all day. Wi-fi is availalble. The rooms are quite spacious.
Check Rates & Reviews
---
Hotel Agnaoue
is a cheap Marrakech family hotel located only steps from Jemaa el Fna. There are quad rooms available that can sleep a family of 4. It is a basic hotel that is great for those traveling with kids on a small budget. Breakfast can be arranged on the rooftop terrace. Rooms are cozy!
Check Rates & Reviews
Moderate & Luxury Marrakesh Family Hotels

Atlas Targa
is a four star luxury Marrakesh family hotel located close to the airport. There is a swimming pool and mini kids club on site. The hotel has family rooms that can accommodate 2 adults and 2 children. You can escape the chaos of Marrakech with a stay here, but still have access to the famous square with the free shuttle service. There are entertainment organizers to keep everyone busy with fun games and activities too. Rooms are modern and have flat screen tvs, a/c and wi-fi.
Check Rates & Reviews
---
Blue Bay
is a luxury five star Marrakesh family resort. It has 2 room family suites that can sleep 4 with separate sleep areas. This beautiful hotel has a few pools including an indoor one and one for the kids. There is a childrens program for ages 4-12. It is located a few minutes drive from the town and there is a free shuttle service available. The animation team works hard to make sure everyone is having a great time here! There is an optional all inclusive program.
Check Rates & Reviews
Home

›
Morocco

›
Marrakech Riads