La Carolina Lodge : 2018 Guide
We loved La Carolina lodge! It is a true Costa Rican experience and we felt at home with the rainforest as our backyard. We were 2 families visiting, one with a toddler and mine with 3 kids (10, 14, 16). This is a lovely rainforest hotel with your meals, horseback riding and a guided hike to Rio Celeste included! Add this to your itinerary-you don`t want to miss out on this experience!
We stayed in 2 lovely cabins. Mine was great for families (cabin on the hill) with 2 double beds in one room and a separate room with a double bed. We had a wrap around veranda with a hammock to swing in and listen to the river flowing in the background. The shower was lovely and you could open the windows and have a rainforest view and breathe the fresh air!
We arrived at night (via rental car-we used Dollar with no problems) and the drive was a bit nerve wracking as we were coming from the airport and it was our first experience driving in Costa Rica. It was definitely a very bumpy ride to get there. It is located in the lovely village of San Miguel. As we grew more comfortable with the Costa Rican roads, we soon became a pro at navigating all those potholes!!
We were warmly greeted by the staff and shown to our rooms. There is limited electricity (eco-friendly!) so the paths were lit with candles and we were provided with a flashlight to help us find our way. We enjoyed a delicious dinner of roast pork, rice and beans, salads and delicious home made juice! It was topped off with fresh brewed Costa Rican coffee. All meals are included in your stay here. We chatted with some other guests at the communal dinner table. We hit the sack early with our belly`s full after a long day of travelling.
We woke up to a wonderful view! What an amazing view to wake up to-flowers, trees, the river, birds and more greeted us! Having arrived at night we didn`t realize just how spectacular this place is.
More About La Carolina Lodge
We had a tasty breakfast (more rice and beans-my kid`s favorite!) and met up with Alejandro who would be our guide for our hike to Rio Celeste ($10US Entry fee into the National Park, Kids under 12 free). The guided hike is included in your stay at La Carolina lodge. It was a lovely hike through the rainforest where Alejandro pointed out many interesting plants such as the walking tree, coiled ferns and interesting bugs.
My children loved the plants that would seem to melt to your touch and come back to life later in the day. The hike was moderately difficult-but we all made it, even with a toddler in a backpack carrier!
We saw the unbelievably blue waters of the Rio Celeste waterfall-absolutely stunning! There is a set of stairs to reach the viewing platform-it is an easy walk down, not so much coming up! Well the kids all raced up it, I stopped a few times to, err, admire the view some more!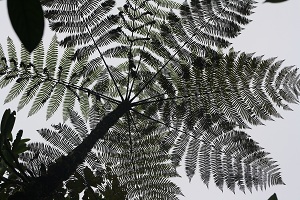 We headed back to La Carolina lodge for a hearty lunch including more rice and beans and more of that delicious coffee! We arranged for an afternoon horseback ride(also included in your stay!). This was a highlight for my kids. We are not experienced riders-but they felt very safe with Alejandro leading the group across the rolling fields, streams and farmlands.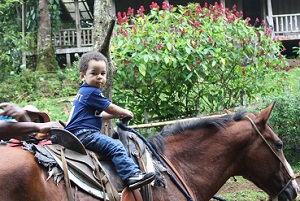 Before dinner we hung out at the lovely river jacuzzi to rest our aching bodies! What a wonderful way to unwind. The hand built jacuzzi sits along side the river. Water is diverted from the river and heated by a wood burning fire. Relaxing in the jacuzzi after a long hike and horseback riding while soaking up the views of the river and rainforest with your family-magical!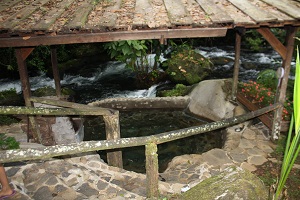 The next morning we walked the grounds and watched the colorful birds eating the fruits. The toucan was a hit! We all decided another horseback ride was a wonderful way to end out stay at La Carolina Lodge.
We were sad to leave and wished we had spend at least one more day-there was so much more to do-milk the cows, fish in their nearby lake or even swim in the river!
On our drive out from the La Carolina lodge -we realized just how scenic the roads to reach La Carolina are-pastel homes, farms, rolling hills, horses and cows , beautiful flowers and children playing. Try to arrive in daylight if you can so you can enjoy it both ways!
On our way to our next adventure we stopped at Las Pumas rescue center (near to Hwy 6 and Hwy 1) which was a nice chance to stretch our legs and check out the wild cats, monkeys and birds that this organization has helped to rescue. It is a small place-we stayed about half an hour. (Fees: Adults $10, Children $5)
I`d love to return to La Carolina on my next visit to Costa Rica and highly recommend it for families. The kids loved the hike, horseback riding, our lovely cabin and the endless supply of rice and beans! The baby (18 months) loved playing with the toys at the La Carolina lodge, watching the birds, seeing the horses and he slept very well in the playpen that was provided.
Although the river`s edge was close by and the grounds were quite hilly-we kept a close eye on him and felt safe with him there. He even learned a few new words-bird, horse, tree and monkey! The adults in our group-raved about the river jacuzzi, the horseback rides, the lovely guests we met at the communal dinners and the piping hot fresh brewed coffee with each tasty meal!
Hotel Info:
San Miguel, Bijagua, Guanacaste

---
More Costa Rica Articles!
---
| | |
| --- | --- |
| Guanacaste Fun | Guanacaste Hotels |

| | |
| --- | --- |
| Costa Rica with Kids | Costa Rican Food |
---
Home

›
Costa Rica

›
La Caroline Lodge