Things to do in Agra With Kids

India Family Vacations that Rock! Incredible moments at the Taj Mahal and more!
A visit to Agra with kids is a must do on your family trip to India. Family vacations are a great time to bond and India has so much to offer!
The iconic Taj Mahal is here and one of the Wonders of the World! But there is more to Agra then just the Taj Mahal.
Toddlers and children will love seeing the playful monkeys at the Agra Fort and teenagers will love exploring the markets!

You can visit Agra on a day trip from New Delhi if you take the early express trains (2 hours) and the late one back. Or book one of the Agra family hotels and stay a night or two.
If you are doing the Golden Triangle and hiring a driver then be aware the drive is actually 5 hours from New Delhi to Agra so you may want to take the train from New Delhi and hire your driver from Agra.

Eating the local cuisine is one of the highlights of visiting India! Agra is famous for its delicious chaat. Check out these tasty Indian foods to sample on your travels here!

Cultural art and activities + games + travel quizzes + food and much more

7 Fun Things to Do in Agra with Kids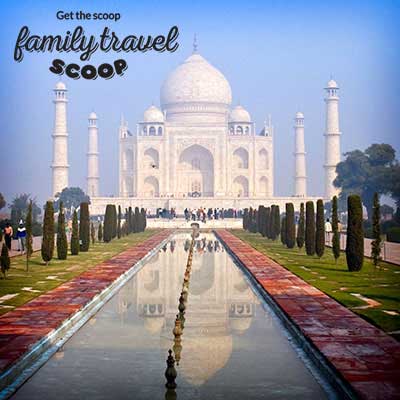 Taj Mahal - 

Visiting the Taj Mahal is of course one of the best things to do on your family vacation! Hire a guide to make the most of your visit so you family can hear

about

the fascinating story of the emperor who built this monument for his late wife. 

Try to find a guide who will interact well with your children. Stroll the

grounds,

view the tomb and marvel at the intricate carvings on this Wonder of the World with your family. 

There are lots of souvenir vendors lining the roads leading up to the Taj Mahal. Great place to pick up a mini Taj for the children! Keep in mind the Taj Mahal is closed on Fridays.
Wildlife SOS -Your animal lovers will enjoy a visit to Wildlife SoS which cares for abused bears, elephants, snakes and other animals that have lived a hard life. They offer guided tours where you can see the work they do to rehabilitate these animals. You must arrange your visit beforehand. Bring your gently used children's clothes, shoes, toys & books to donate to Mother Teresa's Missionaries of Charity which helps to provide housing and food for infants all the way up the elderly. 

They rely solely on donations and are in need of many items. If you prefer you could also purchase items while in India to help the local economy. They accept visitors from 2-6 pm daily. St. Mary's church is located in the heart of Agra city and they are located just about an hour away from there. This will be a memorable experience for your family- a great thing to do in Agra with kids!
Agra Fort -Agra Fort is another one of the interesting things to do here! This huge red fort is full of intricate tile work, beautiful gardens and a fascinating history. 

The emperor who built the Taj Mahal was later imprisoned here by his own son! There are fantastic views of the Taj Mahal. Kids will love seeing the monkeys jumping all

around

the place and the squirrels running around! Again it is best to get a guide who can tell your family the stories of this amazing fort!
More Fun in Agra with Kids!
Sikandra (Akbar's Tomb) -This is another one of the sites to see. While the parents may be more interested in seeing the beautiful 5 story sandstone tomb set amongst beautiful gardens, children will be entertained by the mischievous monkeys that hang out here and the deers that roam the grounds. Well worth a visit for a couple hours!
Enhance your child's experience with the India Fly It Quiet Activity Pack. They will learn about the culture, food, language and wildlife by completing fun interactive activities!


Best Agra Family Hotels

Taj Homestay is one of the inexpensive Agra family hotels. It is a small boutique hotel in a residential area of Agra. They have family rooms that can sleep 4. Breakfast is included. This Agra family hotel is located 4 km from the Taj Mahal. Check Rates & Reviews

Hotel Priya is one of the cheap Agra family hotels. It offers 4 bedded family rooms. Some rooms have views of the Taj Mahal. They have a garden restaurant. 10 minute rickshaw ride to the Taj Mahal! Check Rates & Reviews

What was your favourite Agra with Kids experience? Share on facebook!
More Indian Family Adventures

Home

›
India

›
Agra