Yummy Hawaiian Food For Kids
Huli Huli chicken, shave ice and manapua are some of the delicious Hawaiian food for kids to sample on your Hawaii family trip. Hawaiian food is a mix of cuisines influenced by Asian, American, Portugeuse and Polynesian dishes. Fresh seafood and fruit is of course abundant!
You will find restaurants offering local food and international fare from around the world. There are lots of excellent sushi restaurants here! You will find the usual fast food restaurants such as McDonalds, KFC and pizza. But why not try one of the local Hawaiian fast food restaurants such as L & L which serves plate lunch and Hawaiian BBQ.
Traditional Hawaiian food is commonly served at the famous luau (Hawaiian feast) and includes poi, kalua pig, laulau and haupia. Popular Hawaiian dishes eaten by the locals today includes plate lunch and manapua.
See also:

Cultural activities + games + travel quizzes + coloring and much more

Try These Hawaiian Foods On Your Family Trip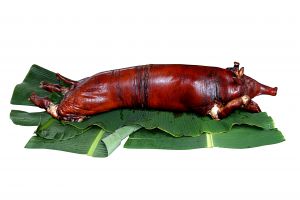 Kalua Pig
is the traditional Hawaiian dish served at luaus. It is cooked using an imu or underground oven. A sand or dirt pit is dug and kiawe wood is set on fire. Rocks are placed in the pit. The pig is rubbed with herbs and sea salt and placed in the pit. More rocks are added and it is then topped with ti and banana leaves. The pig is then left to cook for 7 hours. After it is cooked the meat is then shredded! Delicious!
Poi is one of the tasty Hawaiian food for kids. Taro is a root vegetable that is baked or steamed and then mashed together with water. The consistency can range from soupy to dough like.
Laulau is traditionally cooked in the imu (earth oven) and consists of pork and fish wrapped in taro leaves. You might find it as a plate lunch dish at a restaurant steamed on a stove top and serve with rice and macaroni salad.
Haupia is a firm gelatin like dessert commonly served at luaus. It is made from coconut milk and arrow root. This is a tasty Hawaiian food for kids to sample!
Poke is made of raw fish (usually tuna) with roasted kukui nuts, chili peppers, soy sauce and seaweed. This is a popular Hawaiian appetizer. My daughter who loves sushi love this but my little one refused to try it!



Fresh Fish is one of the best Hawaiian dishes for kids. Tuna, marlin, and snapper are grilled, barbecued or steamed. Enjoy lots of this on your Hawaii family trip.
Spam (yes that Spam the tinned ham!) is very popular in Hawaii. Although not a traditional Hawaiian dish, Hawaii is now one of the highest consumers of this canned meat product. It is often fried and served with rice. You might find it served at breakfast with fried eggs or even as a sushi dish( which personally sounds highly unappetizing but hey though we would mention it:)!!)
Manapua is similar to a dim sum steamed bun only larger. It is usually filled with pork, but can be filled with a variety of meats or bean paste. This makes a great snack for the kids.
Loco Moco is one of the popular Hawaiian dishes found on many menus. It consists of rice topped with a hamburger, gravy and fried eggs.
Shave Ice will surely be a hit with the kids. An ice block is finally shaved that is then topped with flavored syrup such as guava, passion fruit, pineapple or a rainbow mix of flavors. Ice cream and azuki beans. These are mashed and sweetened. You will find this at many small shops or stands along the way.
Plate Lunch is a common local dish. This is rice, macaroni salad and fried chicken or mahi mahi or loco moco. Don't miss out on this on your Hawaii family trip.
Huli Huli Chicken is one of the yummy Hawaiian food for kids! Look for a roadside stand serving up this mouth watering dish. Chicken is marinated in sauce made up brown sugar, soy sauce, ginger and pineapple juice. It is either barbecued orroasted on a spit. This is a must eat on your Hawaii family trip.
Saimin is a noodle soup dish influenced from many Asian cuisines. The soup may contain green onions, fish, barbecued fish, seaweed and even Spam!
Fresh Fruit is always a favorite with children visiting Hawaii. Sweet pineapple, bananas mangoes and papaya are popular. Stop by a local fruit market and try something more exotic like longan, star fruit and rambutans.
Mai Tai is for Mom & Dad! This is a popular Hawaiian cocktail made with rum and fruit juice. Enjoy one on your Hawaii family trip.
Home

›
USA

›
Hawaii Food