Things To Do In Hong Kong with Kids

Hong Kong Disneyland is one of the most exciting things to do in Hong Kong with your kids. The park is quite small in comparison to the US parks, so you won't need more than a day or two here. Children will be thrilled with the rides such as the tea cup ride, jungle boat ride and space mountain. This park is best suited for children under 12 as most rides are for younger kids. Enjoy watching the shows and the fireworks at night. Read more here.
Don't miss out on a visit to The Peak which is one of the most popular Hong Kong attractions. The steep ride up the mountain on the Peak Tram is a thrill. At the top you will have magnificent views of the Hong Kong skyline. An evening visit is also recommended to see HK all lit up. There is lots to do at The Peak including playing in the park at the top, restaurants, shops and even a Madam Tussauds wax museum. Try to save this for a clear day to get the best views. Read more here.
Children will get a kick out of the Central Mid-Level Escalators which at 800 meters are the longest outdoor covered escalator system. There are 20 escalators and 3 moving sidewalks. There are lots of shops and restaurants to explore and various points along the way. The ride is downhill from 6-10 am and uphill from 10am-midnight. Avoid rush hour! This attraction is not stroller friendly so bring the baby carrier if you are traveling with babies or toddlers.
This attraction will be closed at the end of 2015 for renovations. Your budding astronomers will enjoy a visit to the Hong Kong Space Museum. This is a great spot for children as the exhibits are interactive and there is a model space shuttle cockpit. There is also an egg shaped dome theater where the kids can lie down and look up at the stars on the screen. There is also an Imax theater which shows some English movies. Read more.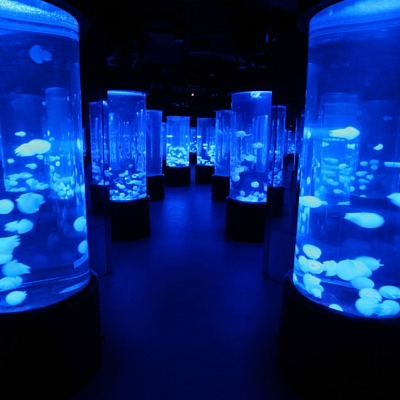 Ocean Park is one of the best attractions for kids. This park has lots of rides for young children as well as thrill rides for your older kids and teenagers. There are lots of animal exhibits including two excellent giant panda exhibits. The Sea Jelly Spectacular is a must see. Don't miss out on the dolphin and sea lion shows at the Ocean Theatre. This park is huge and attractions are spread out so be sure to bring a stroller for your toddlers. Strollers are also available for rent at the main entrance of the park. There is a cable car ride that offers great views.
Cultural Activities + France Country Facts + Country Games + Coloring + Fun Quizzes and more for kids 4-13!
Your kids will have a great time going for Yum Cha where you eat Dim Sum. The waiters will pass by your table with carts loaded with baskets filled with bite-sized food. The food is usually steamed or fried. Keep choosing dishes as the carts pass by and until everyone is full! These restaurants are usually quite busy and noisy! Tea is served as well. Some of the yummiest Dim Sum are
Char siu baau: Steamed rice bun stuffed with BBQ pork.
Cheong fun: Fried rice noodles stuffed with beef or shrimp topped with sesame seeds.
Lou mai gai: Glutinous rice wrapped in a lotus leaf stuffed with pork and water chestnuts.
Cheun gyun: Spring rolls filled with vegetables,meat or seafood.
Dan tat: Pastry filled with sweet egg custard
Mong guo bo din: Mango pudding with pieces of mango and topped with evaporated milk.
This is one of the most delicious things to eat! Check out more Chinese food here!
Jump on the double decker bus and head out to Stanley Market. Keep an eye out on your way for the building with a hole in it. This building was designed with Feng Shui in mind and the hole is so the dragon that is said to live behind does not get his head trapped! Children will have a great time spending their allowance on the toys and gadgets. Teenagers will enjoy checking out the jewelry and clothes. There are lots of souvenirs here too! One of the best souvenirs is to have their names carved in Chinese on a marble seal (chop) that they can dip in ink to print their name.
Escape the crowded streets and head to the beach at Repulse Bay. Children will adore cooling off in the waters and playing in the sands. The waters are shallow so it's a good option for toddlers and small kids. Grab an ice cream from one of the local vendors! This is close by to Stanley Market.
The Science Museum is a great place to see. This museum has loads of interactive exhibits for children to explore including a car driving simulation and flight simulator. Little scientists will also enjoy seeing the world's biggest energy machine with rolling balls that demonstrate kinetic energy. There are lots of live demonstrations from the staff as well. Learn more.
A visit to Hong Kong Park is another great thing to do. It is a great place to visit with babies and toddlers (though not stroller friendly as there are lots of steps). Children will enjoy playing with their new friends at the huge playground, exploring the bird aviary, ponds and look out tower.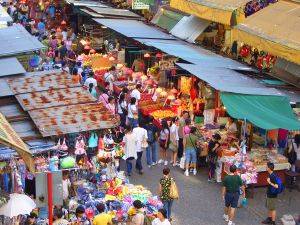 A visit to Mong Kok is one of the must see Hong Kong attractions for kids. This area is filled with several lively markets selling everything imaginable. Children will love strolling through the gold fish market and flower market. There are also markets selling children's clothes, toys and stickers. This is a great place to do some shopping!
Head to Victoria Harbour one evening to see the dazzling 'A Symphony of Lights' show where your family can watch the colorful light show on the skyscraper. It is synchronized to music and starts at 8pm each evening. Your teenagers will enjoy a stroll along the Avenue of Stars where they can check out the plaques honoring Jackie Chan, Bruce Lee and other stars. There is even a Jackie Chan gift shop here!
Spend a few hours exploring Hong Kong Bay in search of the beautiful pink dolphins. Your family will learn all about these dolphins from the guides on the boat tours.
Another one of the fun things to do is to take a ride on the Star Ferry. Your family will enjoy a ride across the harbor from Hong Kong to Kowloon where you can see the amazing Hong Kong skyline. You also will see the busy harbor with boats and Chinese junks. The ferry is a recreation of a double decker boat from the 1920's complete with sailors in traditional uniforms.
Have dinner aboard the Jumbo Floating Restaurant in Hong Kong Harbour. The kids will love seeing this beautiful boat all lit up at night. The kids will have a great time looking at all the fish in the tanks.
Read about other Asian holidays here!
More articles to help you plan!
---
| | |
| --- | --- |
| Children`s Guide | |
---
Home

›
China and Hong Kong

›
Hong Kong