Things to do in Eilat with Kids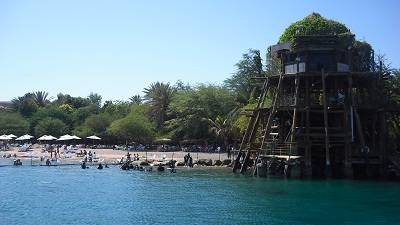 There are many fun things to do in Eilat with kids! Eilat is the ultimate family travel destination in Israel. The city has endless activities and attractions. But most importantly it has the natural attractions of the beautiful Red Sea with its coral reefs and marine life as well as the desert just on the city's doorstep.
Here are the top 10 things to do in Eilat with kids.
Dolphin Reef -For the one-time entrance fee you get all day on the private beach where the waiters come to you as you sit in the beach chairs under umbrellas; kids can play safely in the enclosed section of the sea and the main attraction are the dolphins who come to feed and perform (only if they feel like it) every few hours. 

The paradise location is complete with a restaurant, diving and snorkeling school and a small cinema where you can see a film about the dolphins.

For a once in a lifetime experience anyone (over 8 years old) can swim or snorkel with the dolphins. What makes this dolphin attraction unique is that the creatures are not in captivity, they are free to come and go, but lucky for up humans they enjoy getting fed

here.
Ice Park and Mall - 

Eilat's newest attraction is a multi-level shopping center in a circular shape and in the middle an Olympic size ice rink. You can rent skates and pay for a "session" on the ice. 

Between sessions (which last about 2 hours) there are performances by professional skaters and other forms of entertainment for the kids. Truly an exciting place for plenty of amazing things to do in Eilat with kids!

Within the mall is a huge games arcade, cinemas and other places of entertainment and remember that Eilat is a tax-free port city so shopping here should be about 16% cheaper than elsewhere

in Israel.
IMAX and Wax Museum-

Both the IMAX and Wax museum are in the same building and you can get a joint ticket to both attractions. Don't expect Madame Tussauds but the figures are still entertaining and recognizable.

The IMAX theatre shows a range of films throughout the day and night, many of which

are relates

to the sea and marine life. The IMAX is within a blue shiny pyramid shaped building near the city center.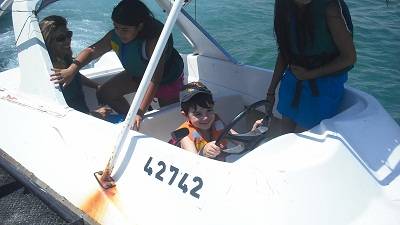 More Fun Things to Do in Eilat With Kids
Water sports -

Many of the Eilat beaches offer water sports and kids can participate in almost all of them. The most popular are speed boat rides (either with a driver or driving yourself), being pulled behind a speed boat as you sit on a giant banana or lie on a raft, water skiing, jet ski, parasailing or kayaking.

My personal favorite is Hof Hashmal (Electric Beach) but you can find beaches all along the coast which provide these services. You can get special deals when you pay for more than one activity as a package. You can also rent a snorkel, mask and flippers and explore the coral reefs by yourselves.
Promanade and Amusement Park -

In the

evening

the promenade comes to life with endless stores and stalls selling trinkets, toys, clothes and souvenirs. A walk through this promenade market is a must but along the way stop off at the small amusement park. Here kids can go on the usual amusement park rides and try to win prizes at the various stalls. The park has so much to offer, so many things to do in Eilat with kids!
Underwater Observatory Marine Park -

The prominent structure in all pictures of the Eilat skyline is the white tower that seems to come out of the sea. This is an underwater observatory, where glass windows separate you from the natural coral reef which surrounds the structure.

Apart from this attraction the site is also an aquarium with tanks of various marine animals including a shark tank, seahorses, turtles, stingrays and tropical fish. There more than just one fun things to do in Eilat with kids. There is also an underwater simulator with multimedia effects, a stand where you can fish for your own pearl and you can take a ride in a

glass-bottomed

yellow submarine which goes out

into

the open sea several times a day.
City of the Kings - 

Before you enter you'll be impressed by the ornate architecture of what appears to be a king's castle. Once

inside

you go through a series of experiences and activities which lead one into the other. They include a boat ride on a river within the building. The ride takes you past scenes depicting the history of Israel. 

There is a cave of illusions, David's Spiral Slides, a multimedia room

of

effects and amusement park type rides. The ultimate ride awaiting you as you exit is a steep drop down a waterfall in a

rollercoaster-type

boat.
Yaniv Fire Ball-

Another amusement park attraction, but one which is not located in the amusement park area is the large dropping ball. At the end of the promenade you'll find a giant ball which holds 2 people at a time and takes them slowly to the top of two 80 meter high poles then suddenly drops them to the ground and

yoyos

them up and down!

People gather just to watch the people's faces as they go up and down in horror. You can get a DVD of your faces, filmed throughout the ride. The ride is suitable for those over 6 years old.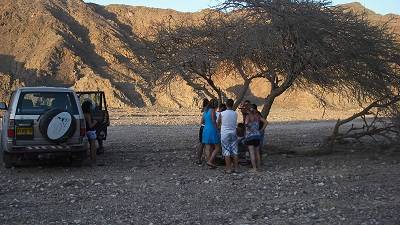 4X4 Desert Tours -

Jeep tours into the desert come in several forms, either 4 hour sunset tours, night tours, tours to Timna Valley, full day tours, tours into the Egyptian Sinai Desert to St. Catherine's Monastery or a combination of a jeep tour and camel ride.

Include some desert excursion in your list of fun things to do in Eilat with kids. So many of the attractions are water related it's nice to see the other side of the city.
 Donkeys and Camels -

Just a few minutes into the red mountains on the coastal

road

you'll find a camel ranch. Here you can join a camel ride into the mountains or take a donkey ride as you sit in a little cart. If you take the donkeys you get awarded a "license to drive a donkey" when you finish.

There are a large number of camels here and just seeing such a huge herd of them is impressive. The best time to go on a camel ride is at sunset to avoid the harsh sun and enjoy the many colors of the surrounding mountains and there are camel safaris which include a Bedouin dinner in the desert.
Israeli Pastries- Don't forget to try the delicious Israeli pastries and other foods kids will love. It's one of the best things to do in Eilat with kids. Trying new food is always fun!  Read more here.
Home

›
Israel

›
Eilat with Kids