21 Things To Do in Barcelona With Kids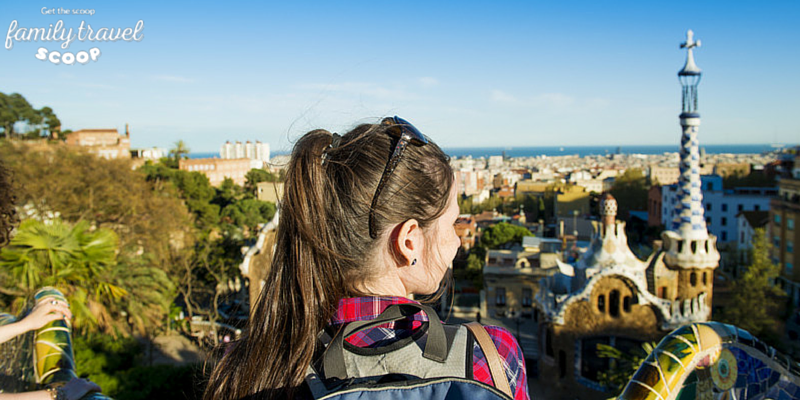 21 Best Barcelona Family Attractions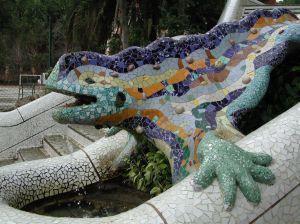 A visit to Guell Park is one of the best things to do in Barcelona with kids. Your children will love seeing the colorful mosaic dragon fountain, as well as the mosaic benches in the form of a sea serpent and sculptures throughout this whimsical park. This park was designed by the famous Spanish architect Gaudi. There are beautiful views of the city from up here. There are lots of street performers, vendors and musicians here.
Your kids will also enjoy the gingerbread houses at the entrance. This is a great place for a family picnic. It is a long walk uphill to the park so you may prefer to take the tourist bus (you still have a 10 minute walk up to the entrance) or you can take the free outdoor elevator near the Lesseps metro exit.
Don't forget to download your Spain travel guide for kids. Full of Spain facts and cultural games and activities!
The Science Museum is one of the fun Barcelona attractions for children. This interactive museum offers lots of hands-on activities. There is also a 3D planetarium, optical illusion area and a rainforest exhibit with living species.
Your teenagers will love to go Sphereing while in Spain! Two riders are strapped in a 12 ft inflatable sphere and sent rolling down the hills of Barcelona. Fun, exhilarating and terrifying! Ages 12 and up (must be 1.4m tall).
Watch a Flamenco Show with your family. Your kids will love the fiery music and dancing. You can watch the show and have dinner or tapas. There is a kids menu and there is a discount for ages 4-12.



Cultural activities + games + travel quizzes + coloring and much more

Casa Batllo is one of the unique Barcelona attractions that your family will enjoy. This building was restored by the renowned architect Gaudi into a work of art. Your kids will love seeing the skeletal exterior (very spooky when lit up at night!). The roof is arched and looks like a dragon's back and the interior is designed with no straight lines. There is lots of colorful mosaic artwork and lots of nooks for the kids to explore.
Enjoy a stroll with the kids along Las Ramblas. This street starts at Plaza Catalunya and ends at the sea. Stop at the Boqueria Market along the way and pick up a fresh fruit plate or fruit drink. This is also a great spot to pick up food for a picnic. In the evenings there are lots of street performers, artists and vendors along the way. One of the best things to do in Barcelona with children.
A visit to the Maritime Museum is another one of the fun things to do in Barcelona with kids. This interactive museum has lots of interesting things to see including a replica of the royal galley. Included in admission is a tour of one of the boats in the harbor.
The Chocolate Museum is one of the interesting Barcelona family attractions. Your entrance ticket is a chocolate bar and inside you will learn all about the history of chocolate and learn how it is made. There are amazing chocolate sculptures including 3D versions of some of Gaudi's work. Be sure to stop by the cafe for a cup of hot chocolate.

Explore Barcelona with a City Bike Tour. See the highlights of Barcelona with your family. Kids bikes, helmets, child trailers and infant seats are available. Join a group tour or get your own private family tour.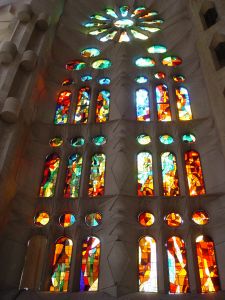 Sagrada Familia is not your typical cathedral. This is one of Gaudi's (famous Spanish Architect) masterpieces. Your family will be mesmerized by this fascinating building. There are lots of sculptures that adorn this Gothic church and beautiful stain glass windows inside. It is still not complete after 130 years of construction! One of the interesting things to do in Barcelona with children.
Wander the narrow cobblestone streets of the Gothic Quarter and your kids will be impressed with the buildings that look like they came right out of a fairytale. There are lots of churches, cafes and shops to explore. Stop at one of the squares for a refreshing drink (Sangria for the parents!) and some delicious tapas.
Spend a few hours exploring Port Bell. Your children will enjoy seeing all the different boats, cruise ships and yachts in the harbour. There are nice pathways to stroll along and you can watch the swing bridge. There is an IMAX theatre here, as well as a shopping mall. Don't miss out on one of the largest aquariums in Europe with 11 sharks and 8000 fish. The kids will love seeing the penguins sliding around on the ice.
Poble Espanyol is an artificial town showcasing the unique architecture found around Spain. There are displays of some of the ancient handicrafts such as glass blowing. There are several restaurants and shops to enjoy. There are lovely gardens, cobblestone streets and traditional plazas to explore with your kids.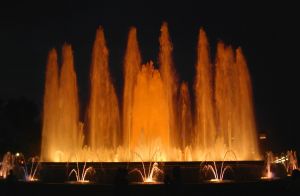 One of the fun things to do in Barcelona with kids in the evenings is to see the Magic Fountain. Watch the water light up and dance to the music. Your kids will love it! For show times click here.

Take the tram and funicular ride up the Tibidabo Mountain. There is a beautiful church and wonderful views of Barcelona up top here. The teenagers and older kids will have a blast at the amusement park up top with a rollercoaster, Ferris wheel and flume ride. Don't miss out on the haunted house! There are also rides for younger kids here.
Visit the beach at La Barceloneta with the kids. There are nice sandy beaches and some great fresh seafood restaurants nearby. Great way for your family to cool off in the Mediterranean Sea. Great place for your toddlers and small children to build sandcastles!
Catalunya Square is located in the heart of Barcelona. You will find lots of great cafes and shopping nearby. The kids will love watching all the birds and seeing the sculptures and fountains.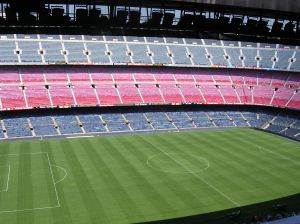 A tour of Camp Nou is a must do for all those budding footballers (soccer stars). Take a tour of the largest stadium in Europe and learn all about FC Barcelona. There is a museum with Maradona's shirt, trophies and other memorabilia. You can visit the dressing rooms, press rooms and pitch up close. There is a self-guided audio tour available. Better yet, check if FC Barcelona has any matches on while you are visiting.
Sampling some of the delicious Spanish food for kids will be one of the highlights of your family holidays in Barcelona. Tapas or Spanish appetizers are a great way for your family to try some of the local cuisine. Churros dipped in rich hot chocolate makes a delicious breakfast for the kids.
Young children and toddlers will enjoy a visit to the Barcelona Zoo. There are lots of animals to see including offspring (not albino) of the famous albino gorilla Snowflake. It is your typical zoo and there is a play area for kids and pony rides for a fee. One of the fun things to do in Barcelona with kids. Read more about the zoo.
Wake up early and go for a family Hot Air Balloon Ride over Barcelona. You can enjoy a private balloon ride for up to 8. Kids must be 6 years and up.

More European Holiday Ideas!
Plan your trip to Spain here!
---
| | |
| --- | --- |
| Barcelona Hotels | Madrid Attractions |

| | |
| --- | --- |
| | Spanish Food |
---
Home

›
Spain

›
Barcelona Attractions