The Perth Mint

An Interesting Thing to Do with Kids In WA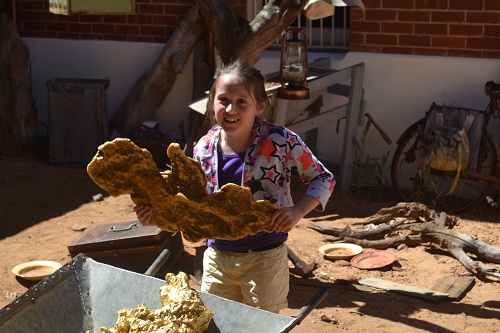 If you visit Perth don't miss a trip to the Perth Mint. The Mint is a really entertaining attraction that helps kids understand how money is made and about the history of gold in the region.
We visited the Mint and really enjoyed ourselves. It only take an hour to do the heritage tour and watch the gold pour but it is well worth it- and you can shop and have a drink and snack at the cafe afterwards!

" The Perth Mint is so cool! I want to go back and visit it again! I got to see gold turning in to liquid and I never even knew that you could do that. It was really hot so we had to sit away from it.
Also people used to go mining for gold and we saw these huge pieces of gold -they were fake ones though not the real ones, and you could lift it up. My favorite thing was seeing how much money I would cost if I were a lump of gold-almost one million dollars! I am so expensive haha" -Francesca aged 9

What is there to do at the Perth Mint?

We started out with the heritage tour at 1:30pm where we were told about the history of the mint in an entertaining way! We learnt about the explorers who came to Western Australia to pan for gold and how they walked for thousands of miles into the desert in hot conditions to seek their fortune!
My daughter was very interested in the talk and learning about these fortune seekers- she wanted to go and try it herself!
Next we moved to the recreated camp area of the goldpanners and learned more about the largest gold nuggets ever found. Recreations of these gold nuggets are available and you can hold them and take your photo here!

Inside we tried out the fun things to do do like weigh yourself 'Gold Weigher' to see how much you would be worth in gold-my daughter was very impressed she was just short of a million dollars!
You can place your hand inside and try to lift a very heavy gold bar! You can see the world's largest gold coin- as listed in the Guinness Book of World Records.
There are lots of gold artifacts to look at and admire as well.

After a short tour- you enter the Gold Pour Room.
The gold pour is amazing! You see a solid piece of gold- a large bar melted into liquid form and remade into a bar again! The goldsmith is very entertaining and explains the pricess throughout the pouring.

The Gold Pour

---
This is a very worthwhile attraction to see while you are in Perth. Don't miss it!
Contact Details

Website: http://www.perthmint.com.au
Email: tourism@perthmint.com.au
Phone: +61 8 9421 7376
Open 7 Days: 9am - 5pm
Public Holidays: 9am - 5pm
Closed: Christmas Day, Boxing Day, New Year's Day, Good Friday and Anzac Day.
---
More Perth Attractions

Home

›
Australia

Perth with Kids

› Perth Mint