10 Things To Do In Fort Lauderdale With Kids : 2018 Guide

Florida Attractions for the Whole Family

Butterfly World, a riverboat ride and the white sandy beaches are lovely things to do in Fort Lauderdale with kids of all ages. Ft Lauderdale is a beautiful coastal city in Florida with an extensive boating industry.
There is an interesting network of canals to explore and some top notch family attractions. It is a popular tourist destination for families with over 10 million visitors each year!

Fort Lauderdale family hotels are available for families of all sizes. Select from cheap family rooms, fun resorts near the beach or holiday apartments.
Fresh seafood, fresh squeezed orange juice and key lime pie are some of the tasty treats to sample while in Florida with kids. Feeling adventurous? There is always gator on a stick!
Cultural activities + games + travel quizzes + coloring and much more


15 Fun Things to Do in Ft Lauderdale!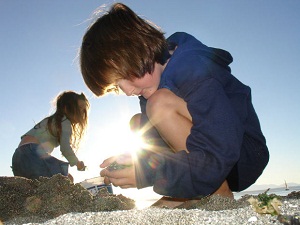 Fort Lauderdale Beach is one of the best Ft Lauderdale family attractions. It has nice white sand and beautiful turquoise waters. The water is shallow and calm-great for toddlers and young children. Babies will like playing in the soft sand. There are lots of restaurants and shops lining the streets nearby. There are public toilets and shower facilities. Don't forget to pack your biodegradable sunscreen so you don't harm the fragile reefs.
Jungle Queen Riverboat is one of the entertaining things to do in Fort Lauderdale with kids. You will board one a world famous riverboat and cruise the waterways past the million dollar mansions. You stop at an island where there are various animals and an alligator wrestling show. You can also do a dinner cruise!
Hugh Taylor Birch State Park is a great way to enjoy the wonderful nature in Florida. The park has playgrounds and lots of green space. There is a rental service for bikes (children's bike and tandem bikes included!), canoes, kayaks and even segways! Pack a picnic lunch or grab a bite at the snack bar.
Museum of Discovery & Science is one of the Fort Lauderdale family attractions. It is hands on interactive museum with exhibits such as flight simulators, an aquarium and human body and earth exhibits. There is an area for those under 7 to climb and explore. Great for toddlers and young children. There is also an Imax theater here.
Young At Art is an excellent children's museum in Ft Lauderdale, Florida. It has several permanent exhibits such as the Global Village where kids can play African drums, learn origami and participate in an archaeological dig. The Earthworks exhibit has a recycle truck your children can climb on and learn about helping the environment. Kenny's Closet is a psychedelic art installation which will inspire them to create their own unique masterpieces. There is a special play area for toddlers too! A great way to spend a few hours on your family holidays.
Butterfly World is one of the wonderful Fort Lauderdale family attractions. Great place to visit with babies, toddlers and children. This is the biggest butterfly park in the world and home to 20,000 butterflies and many birds. The grounds are beautiful with colorful flowers and interesting plants. There are also many birds including macaws and lorikeets that you can hand feed. Kids will be enchanted by the bug museum including a cockroach as big as a hand!(I was not so excited by that!!)
Fort Lauderdale Antique Car Museum is an interesting place to visit with your kids. They will enjoy seeing this collection of Packard Motor automobiles from the 1900's to 1940's. This will be better suites for older children and teenagers as you can look but not touch! Photographs are permitted. There is also a collection of antiques from this period as well.
A visit to Bonnet House is one of the interesting things to do in Fort Lauderdale with kids. It is a historic plantation style home that was occupied by an artist and his wife. Your children will enjoy the colorful art throughout the home as well as the wonderful gardens. There are monkeys, swans and a cockatiel named Peaches that reside here!
Sawgrass Recreation Park is one of the best things to do in Fort Lauderdale with kids. Children and teenagers will love the air boat ride tour through the Everglades in search of alligators! Don't miss the exhibits where you can see Cannibal the 1000 pound alligator, friendly turtles and iguanas. Your kids might even be able to hold a baby alligator! They can feed the pigs, ducks and bunnies. There is also an armadillo, panther and bobcats to see.
Boomer's Park is a family fun center with lots of different activities. There is bowling, go karts, an arcade, bumper boats, laser tag and a couple rides.
***Miami is less than an hour's drive away. Check out these 15 fun things to do in Miami with kids.

Home

›
USA

›
Fort Lauderdale