Canadian Museum of History and
IMAX Theatre

This outstanding museum's exhibitions highlight Canadian history, archaeology, cultures and ethnology. It is also home to the Canadian Children's Museum and an IMAX theatre. It holds more than 4 million artifacts, works of art, documents, recordings and specimens. The museum has about 25,000m² spread over 4 levels, many of which are interactive and hands-on.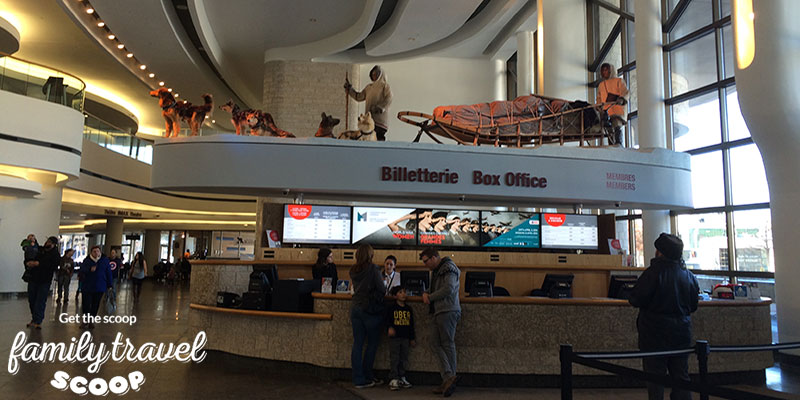 Canadian Museum of History

The 1st level of the museum is devoted to Canada's First People, it explores their history, culture, arts and traditions. The permanent galleries explore 20,000 years of human history and cover archaeology, folk culture, ethnology and much more. On  the 1st level is the Grand Hall and First Peoples Hall. The Grand Hall has a six storey high window wall with views of Parliament Hill and the river. Here you can see six classic native houses connected by a boardwalk and with amazing totem poles.
When you go behind the house facades you can see the exhibitions: First Peoples of the Northwest Coast and From Time Immemorial - Tsimshian History. The 2nd Level is home to three galleries with temporary exhibitions, the Children's Museum and the IMAX Theatre. The 3rd level is a continuation of the IMAX plus space which is under renovation. The 4th Level is closed for renovations and will open in 2017 with the new Canadian History Hall.
Children's Museum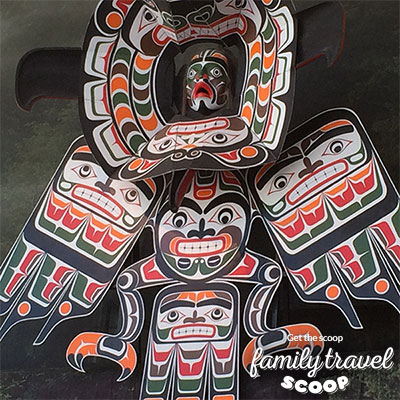 This part of the museum bursts with color, sound and light. Wherever you look there are larger-than-life structures, cartoon characters and activities. Kids get to make their way through the "world" learning about different cultures through hands-on artifacts, costumes, exhibitions, props and games. The first stop is at the "Travel Bureau" where they get a "passport" gaining them entry to 30 permanent exhibits. Through each themed exhibit kids can learn about the cultures, lives, work and celebrations of people across the globe.
For example there is a brightly decorated Pakistani bus which kids can climb; a three wheel Thai rickshaw and a Bedouin tent. They can make a movie in the Canada exhibit; create art in the Studio; decode hieroglyphics in the "On the Nile" section; climb on a cargo ship and operate a crane in the "Port of Entry" exhibit; enjoy shopping in a market bazaar; make shadow puppets in the Indonesia exhibit and enter a Japanese tatami room. Kids can explore the exhibits at their own pace and according to which section grabs their interest. The exhibits have been carefully designed to help kids develop skills and gain knowledge.
IMAX Theatre

The museum's IMAX theatre screens films like Vikings and Jean-Michel Cousteau's Secret Ocean. The theatre has two giant screens which are seven storeys high and a digital sound system. The theatre screens 3D films on the IMAX screen and 2D films on the IMAX Dome which gives you a 180° viewing experience.
Families Should Know…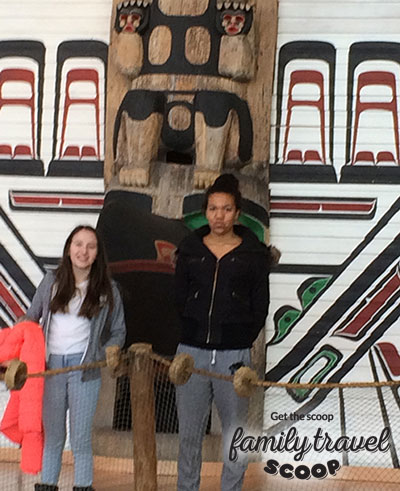 In the Children's Museum every child under 5 must be accompanied by an adult and all children 10 and under need an adult escort. Although you have to leave bags and coats in the cloakroom you are allowed to take a diaper bag into the Children's Museum. There are diaper changing facilities and places where mothers can nurse their babies throughout the museum. Strollers are available at the Coat Check for free use in the museum where there are elevators and access ramps.
Canadian Museum of History Important Information

Where: 100 Laurier St., Gatineau, Quebec City, Canada

Open Hours: 8 Sept-31 March: Monday-Wednesday 9:30am-5pm; Thursday 9:30am-8pm; Friday-Sunday 9:30am-5pm. 24 December 9:30am-2pm; Christmas Day closed.
Admission: Canadian History Museum: Adults C$15, senior C$13, students C$11, child (3yrs-12yrs) C$9, family (2 adults, up to 3 children) C$36. IMAX: Adult C$11, senior and students C$9, child C$7, family C$35. Museum + IMAX: Adult C$21, senior C$18, student C$16, child C$12, family C$59. Canadian War Museum + Canadian Museum of History: Adults C$23, senior C$20, students C$16, child C$12, family C$56. History Museum + War Museum +IMAX: Adult C$29, senior C$25, student C$21, child C$15.99, family C$76. Guided tours C$3. Free admittance after 4pm on Thursdays. Prices do not include tax.
Contact: 1-800-555-5621
Website: http://www.historymuseum.ca/
Home

›
Canada

›
Ottawa

›
Canadian Museum of History