Pink Jeep Tours
Red Rock Canyon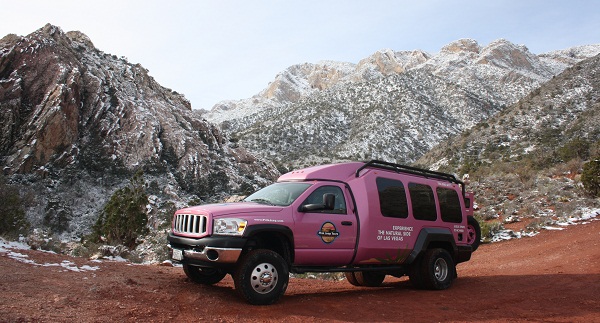 Pink Jeep Tours is a great way for families to explore the area! We took a wonderful morning tour of Red Rock Canyon and we were so glad we did!  We were picked up promptly at the arranged time by our lovely guide and driver.  Our guide Bruce was awesome-he was so knowledgeable about the area.  We had a history, science and geography lesson all in one as he explained about the formation of the Red Rock Canyon, the inhabitants of the area and all about the wildlife and plants we encountered.

The Pink Jeep Tour vehicle is not your typical tour bus. It is a modified vehicle with huge windows so you get great views. The jeep is very comfortable and can seat 10 so you have a small group experience where you can ask lots of questions! They have 4 wheel drive and are the only commercial outfit that is permitted to go off-
roading on the Rocky Gap Road in the Canyon.

The tour was very interactive and our guide included my children in the discussions, by asking them questions and answering everything they asked. We had a 20 minute drive out where we learned about the history of the area. Our first stop was at the visitor`s centre which is really well done!  Out back they have all kinds of hands on exhibits which are perfect for children to learn about the area. We spend about half an hour here exploring the different exhibits.

After that we boarded the jeep and headed out for the scenic drive. We stopped at many of the rest areas and enjoyed the view. I have to say this place is breathtaking-one of the most beautiful landscapes I have ever seen. It is so nice to get away from the all the glitz and glamour of the strip and experience the amazing natural beauty here!

Don`t worry there is no rock climbing involved-the first picture above is just an illusion-he is only a couple feet off the ground!  The tour is great for families as there are lots of stops along the drive to stretch the legs, check out the view and see new things. I was going to do the drive myself before I found out about this tour-one lesson I have learned is to always get the guide-it makes everything so much more interesting. I read great reviews of these tours before I left and I am so glad we had our guide to really educate us on everything we saw-otherwise we would have just been looking at a pile of rocks (albeit a beautiful pile of rocks!).

They offer lots of tours of the area including several Grand Canyon tours, a Hoover Dam tour, Valley of Fire tour and even a Las Vegas city tour. 

For more information, visit the Pink Jeep Tours website!
Everything you need to plan your Vegas family trip here:

---
| | |
| --- | --- |
| Vegas With Kids | Vegas Family Hotels |

| | |
| --- | --- |
| Vegas Family Shows | Vegas Restaurants |
---
Home

›
USA

›
Pink Jeep Tours