Things To Do In Las Vegas With Kids

Best Family Attractions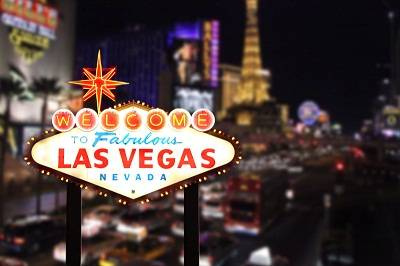 Looking for things to do in Las Vegas with kids? Bringing your children to Las Vegas is a hotly debated topic! But with the right planning you can have an amazing time with your family. Children are not allowed in the casinos at all so if you want to gamble you will need to travel with a sitter or hire a nanny service!  My kids absolutely loved it-there is a ton of fun stuff to do!

Las Vegas gets quite hot, especially in the summer months-it is the desert after all so plan to bring lots of sunscreen and keep the family well hydrated. The strip is over six km long so you will need to do a fair amount of walking and take the bus or taxi sometimes to see all the fun attractions in Las Vegas.  We used the monorail a few times to get down that strip and that was great fun! We also had a rental car which made it easy to get around and there is free parking almost everywhere!

Spend the mornings exploring the outdoor attractions and the afternoons at a show or museum with air conditioning or by the hotel pool. The early evenings are quite tame on the strip and there are lots of things to see and do.  Avoid the weekends if you can as the strip gets crazy busy!
Click here for great last minute deal to Vegas!
25 Amazing Things To Do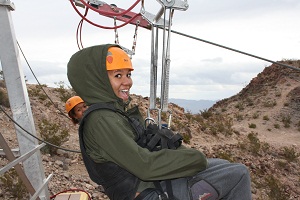 Flightlinez Ziplining is a must do for families!  Experience the real beauty of the area-while zip lining down the Red Mountains in the Mojave Desert.  We did this and loved it-the guides are hilarious and the views are unforgettable as you fly down the mountain from platform to platform!   Take a break from the craziness of the strip and head out for a fun family adventure.
Cirque du Soleil is a feast for the eyes! Kids will absolutely love watching these shows!  And hey, you can't go all the way to Las Vegas and not see one of these classic Vegas shows!

Mystere (showing at Treasure Island Hotel) is one of the best for kids as it features lots of acrobatics and crazy costumes!  We watched this and my son thought it was one of the best things he had ever seen in his life.  My youngest daughter loved the clown who came and spilled popcorn all over her.  He was hilarious. There is so much going on at these shows-everywhere you look there is something happening!   Perfect-even for fidgety kids!

Ka is another great choice for families. It is an action packed show filled with acrobatic stunts, martial arts and dance.
O will keep the kids mesmerized with its water based performances.

Catch a magic show while visiting Las Vegas with kids. There are plenty of family friendly acts in town with various price ranges. Great way to spend a couple hours and escape the heat. 
The Nathan Burton Comedy Magic Show is a great one to see!  We all enjoyed it-the kids are still wondering how they did all those tricks! The show was about an hour and it is quite affordable and very family friendly.  It is filled with lots of humour, magic and fun!  There is audience participation as well which was so much fun!

More Things to do in Las Vegas with Kids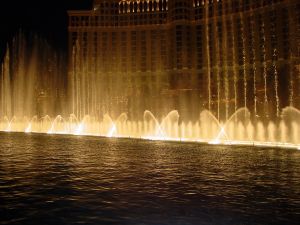 The Bellagio Water Fountain Show is one of the most famous Las Vegas attractions and best of all its free! The show run every 30 minutes late in the day and every 15 minutes at night.   Kids will love seeing the water dance to the music!  Seeing the fountains all lit up at night is magical! One of the fun things to do in Las Vegas with kids.
Head to the Mirage Habitat where you can explore the gardens and see the white tigers, black panthers, leopards and more! There are several dolphin pools that you can view from above or below. They even have speakers set up so you can hear the dolphins! Great Las Vegas attraction for babies, toddlers and children.
Things to do in Las Vegas with Kids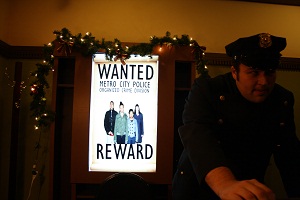 The Mob Attraction at the Tropicana is one of the best and most  unique attractions on the strip! It is so well done-we laughed so much here.  You are given an assignment from the mob and you interact with  live actors and hologram images.  My children loved trying to see if they could successfully complete their mission.  We all tried to keep a straight face while we were interrogated by the police for our involvement with the mob-but the police officer was just too hilarious.  There are lots of interesting artifacts to see from the famous Las Vegas mobsters as well-very interesting.   Don't miss out on this! 
A visit to the Lied Discovery Children's Museum is great for families. There is a special area for babies and toddlers and over 100 interactive exhibits for children and teenagers. There is a kid sized town, a bubble center and hurricane simulation!  Don't miss out on this one. Located a few miles off the strip.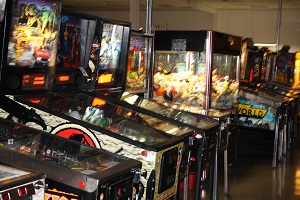 Bring the kids to the Pinball Hall of Fame and show them how we used to play back in the days before Wii and Xbox! There are over 250 working machines so grab some quarters and have some fun. It is located a couple miles of the strip. Best part is all proceeds go to charity!
Tournament of Kings is a fun family friendly medieval dinner theater show at the Excalibur Hotel. Your toddlers and children will love cheering on their team, watching the horses and the sword fight! The dinner is eaten medieval style with no utensils-kids will love this!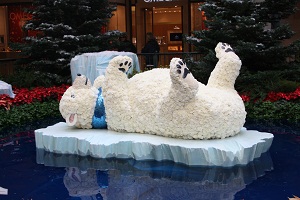 The Conservatory & Botanical Gardens are well worth a visit! The theme of the garden is changed a few times a year and is always very imaginative. Kids will love seeing the beautiful creations and there is often birds and fish included in the displays.  We visited during the Christmas season and loved the polar bear made of flowers!
The NYNY Roller Coaster is a blast!  Once your kids spot this classic Las Vegas ride-there will be no turning back.  It loops and twists around the skyscrapers and the Statue of Liberty at the New York, New York hotel.   Hang on tight-this is a wild one!  We loved it!  You can purchase a one ride ticket or an all day pass.  They offer a family of 4 pass with photos to capture the look of terror on your face! Kids must be 54 inches to ride.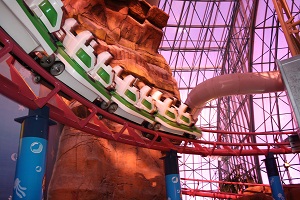 Adventuredome at Circus Circus is tons of fun!  You can easily spend the day here and not run out of things to do!  The unlimited bracelet is the way to go (you can leave and re-enter on the same day too).  This indoor amusement park is open year round so you can escape the insane heat in the summer or the cold in the winter. It has a loopity loop roller coaster, flume ride, bumper cars, kiddie rides, 4D movies, and loads of midway games. 
It has lots for kids of all ages to do-my teenagers loved the spinning, flipping rides and the roller coaster.  This place is huge!   There is a big midway arcade section in another part of the hotel where the kids can play all sorts of carnival games (if your kids are old enough-you can let them loose here while you play the slot machines and they can see still see you from above).  They also have circus acts performing on a regular basis here!
No trip to Vegas is complete without a stroll along the famous Las Vegas Strip. Kids will love seeing the pirate ship at the Treasure Island hotel,   Bellagio fountains,  the gondola boats at the Venetian and the Eiffel Tower. There is also a free volcano eruption show at the Mirage every hour from 7 pm to 11 pm that lasts a few minutes.  Stop by the Flamingo to see the birds! There are lots of souvenir shops along the way. Best to explore during the day or early evening before the party crowd is out.
More Things to do with Kids in Las Vegas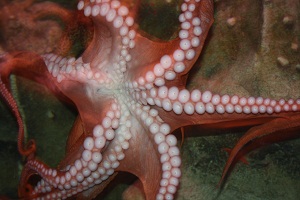 The Shark Reef at Mandalay Bay was another one of our favorites.  You really feel like you have entered a tropical paradise as you explore the aquariums. They have some interesting and unusual species here including the sawfish, nurse sharks and the giant octopus.  My kids loved the touch aquarium where they could "pet" the stingrays.  The aquarium tunnel was a hit too, with sharks, fish and sea life swimming above you, below you and all around you-very cool!!  Don't miss out on this! One of the best things to do in Las Vegas with kids!
There is lots to see and do at the Forum Shops at Caesar's Palace. It resembles a street from ancient Rome complete with a replica Trevi fountain. We loved the gelato there!  There is an amazing aquarium here with lots of colorful fish! Toddlers and children will love the talking Roman statues! Lots of shops ranging from high end to mid range.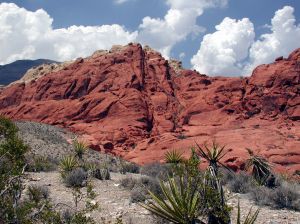 Escape the glitz and glamour of the strip and get back to nature at the Red Rock Canyon Conservation Area. Join a tour or rent a car to head out to this beautiful park located about 20 minutes drive from Vegas. There is a 13 mile scenic drive as well as hiking trails, picnic areas and lots of wildlife. Children will love searching for the long horned sheep and burros! Great way to experience the desert with your family! One of the coolest things to do in Las Vegas with kids.
Spring Preserve is a great way to introduce your little ones to the desert! There are lots of interactive displays and a living collection of desert animals including lizards, gophers and foxes. Take a stroll through the gardens with your babies and toddlers and check out the cactus plants! There are also museums and galleries here to explore. It is located about 15 minutes from the strip.
Cool Things to do in Las Vegas with Kids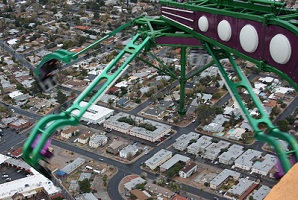 Ride the elevator to the top of the 900 foot Stratosphere Observation Deck. There is an indoor and outdoor viewing area. You will have the best views of Las Vegas, both day and night!  Your daredevils will love the 3 thrilling amusement rides that twist, turn and dangle you over the edge!
We survived the thrill rides!!  These are the most insane rides we have ever been on by far!! They were so much fun! 
Big Shot-We started with this one ,as for some strange reason. I thought it would be the least nerve racking. It shoots you up an additional 160 feet in the air from, oh only, the 108th floor above Vegas! There is this moment when you reach the top and you are kind of weightless, not really sitting in your seat anymore, that is absolutely terrifying, but it will also give you one of the best views of the city!  And hey-now you can say you have been on the highest amusement ride in the world! One of the best things to do in Las Vegas with teens! 

Insanity-Oh yes-this lives up to its name!  You definitely feel insane as the gates fall and the mechanical arm moves out to dangle you and your loved ones precariously 900 feet above the streets of Las Vegas. My teenage son strategically sat opposite me so he could laugh at me, as we spun around and around while at a 70 degree angle facing straight down to the ground so far, far below!   Tip:  Do not eat the animal style burgers and fries at In 'n' Out Burger prior to embarking on this ride-big, big mistake! One of the scariest things to do in Las Vegas with kids!

X-Scream-This is a giant teeter totter that flings you over the edge of the 108th floor. You are in a rolling car, that really doesn't feel like it is going to stop as it flies down the track, heading straight for that hard pavement below, but alas it jerks you back up, only to do it again, and again, and again!  I was too chicken to sit in the front seat-but my 10 year old daughter said the views were fabulous!! 
The Bodies Exhibit provides a fascinating look into the inner workings of the human bodies.  Real human bodies are preserved and the different systems of the bodies are showcased in the exhibits.  We had a great time exploring here. Many of the displays have no glass cases, so you can get within inches of the bodies and really take a good long look (No touching though!-although at the end there are a couple of different organs you can touch).  This is the best science class your kids can attend. It is really well done-with lots of interesting facts about the human body throughout.  My kids especially liked the displays of a healthy lung, a cancerous lung and a box to throw your cigarettes out after viewing it.  There is also a room showcasing fetuses at different stages, as well as a conjoined twin fetus (you can skip this room if you prefer). Fascinating!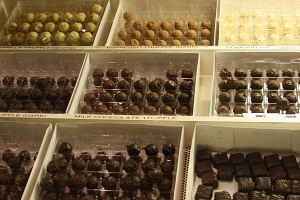 Ethel M Chocolate Tour was definitely a hit with us!  We took the tour and watched how the chocolates are made and enjoyed the free samples at the end!  We stocked up on some of the chocolates in the gift shop-makes a perfect souvenir!  They have interesting flavors such as lemon and pb & j! The pecan brittle is delicious.  They also have a gorgeous botanical cactus garden to explore-if you visit in the Christmas season you will get a real treat as it is decorated with other 600,000 lights-beautiful!  It is located about 10 minutes drive off the strip.
MJ Live at the Rio is a great family friendly show.  Michael Firestone puts on an electrifying performance with his tribute show to one of the legends of our time-Michael Jackson.  He has an uncanny ability to dance and sing like the King of Pop himself!  Children 12 and under Free!! One of the best shows in Las Vegas with kids.
Your children will love hanging out with Lady Gaga and Snoop Dogg at Madame Tussaud's. They can even catch a glimpse of Barack Obama! Ok so they are the wax versions-but still lots of fun for the family. Located at the Venetian Hotel.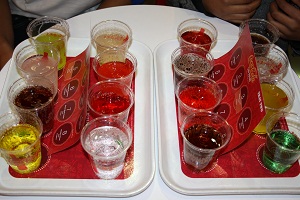 Visit the Coke Store and M&M Store on the strip.  Both stores have several floors of merchandise offering up everything from m & m candy slot machines,  coke flavored lip balm or m & m pajamas!  At the m & m store you can watch a free 3D movie or personalize your own m & m candy(definitely not free!).  At the coke store you can sample 16 different flavors of pop from around the world-we did this and it was lots of fun (you can just buy one set and everyone can take a sip).
Family Friendly Las Vegas Restaurants are all part of your experience!  Choose from the delicious Italian family style meals at Buca di Beppo,  all you can eat Brazilian meats at Pampas Brazilian Grille or enjoy the best burger on the strip at Fat Burger! If you are in Las Vegas with kids eating will be one of the most fun things!
Want some adult fun?  Enjoy a bit of gambling. a Las Vegas nightclub or a late show-leave the kids in good hands with this Las Vegas nanny service!
Got any Things to do in Las Vegas with kids tips? Share them here!
More articles to plan your family trip to Vegas!
---
| | |
| --- | --- |
| Vegas Restaurants | Vegas Family Shows |
---
Home

›
USA

›
Las Vegas