FREE printable luggage tags for the kids when you sign up for our newsletter! Plus we share our best travel tips!
✕
Family Volunteer Vacations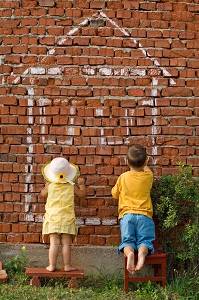 Family volunteer vacations are a wonderful way to help those in need while also providing a life changing experience for your children. Travel can unite us; in going to a new land, we draw closer to what we know and trust.
Traveling with your family can do it most of all, and can teach your children about different cultures and build character in them. Especially so if you spend your travels doing worthwhile things, like teaching English overseas or volunteering and helping at schools or environmental organizations.
There are many organizations in need of help around the world, however few are actively seeking family volunteers. Get creative, do a bit of research on your destination and offer up your services to  schools or community organizations. You will find opportunities to volunteer for just a few hours or even for a few months at a time.
A volunteer holiday will require some planning and creativity. With kids in tow, you want to make sure you are actually helping, not hindering! You also want to be sure the volunteer work is age appropriate.
Ideas for Volunteering

To prepare for your journey overseas, it's best to make sure your kids understand why you are volunteering. Help your children feel like they're doing their part and being involved in the process. This way they don't feel alienated and lost when you finally do make the trip: they feel as if it's something they've been working for, building towards.
With that in mind, you want to choose your trips carefully: a year sabbatical is vastly different from a summer holiday, both in terms of what you can accomplish and what you risk.
When selecting a destination, keep in mind that your family may be accustomed to a certain standard of living. Helping clean up a park in Tokyo is a completely different experience than working to rebuild the rubble left by the tsunami on the Pacific rim. Mix in some pleasure at the end of your family volunteer vacation. Be sure to explore the area and enjoy a bit of relaxation!
Once everything is sorted and time to leave, it's important to again make your children feel like they're a part of the entire process: involve them, let them know what's going on in plain terms. Talk to your children about the conditions they will experience and reasons for your volunteer travel.
No matter where you go on your journey, the point is to bond as a family and do something good together. Whether it's planting trees in Vancouver, or rebuilding someone's home in Cambodia, you can do a lot of good with just willpower and a small savings on your family volunteer vacations. Your children will see it as a growing experience, and carry the entire journey with them for the rest of their lives.
Ideas for volunteering on your travel with kids! One of the bonuses of traveling with kids is all the extra luggage space you get. Take advantage of your extra luggage allowance by stocking up on items to donate in your destination. Used books, gently used or new children's clothes and shoes, toys, art supplies, school supplies, over the counter children's medications, tooth brushes, toiletries and sports equipment can be of great use in third world destinations.
Avoid bringing candy for the kids as it rots the teeth! When we visit Jamaica, we always pick up an extra suitcase at the thrift store and pack it full of supplies to donate to the SOS children's village in Montego Bay.
Work with an organization such as ABCs and Rice in Cambodia to pay for the lunch or rice for the week for their students.  Or buy bicycles to help some of their students get to school. 
Volunteer travel with direct contact with children is becoming more controversial. You need to really check if what you are doing in is in the best interest of the children. Orphanages around the world are often money making schemes and take children away from their families so foreigners can have feel good about volunteering. Research your trip carefully and work with reputable organizations.

Home

›
Adventure Travel

›
Volunteer Vacations