FREE printable luggage tags for the kids when you sign up for our newsletter! Plus we share our best travel tips!
✕
USA Family Vacations
How to decide where to go? 

20 adventure destinations perfect for family travel!

Yellowstone

Stay at The Old Faithful Inn and hear your kids squeal when the geyser blows. The rustic beauty of the inn's architecture will amaze. The nearby Grand Prismatic will enchant your kids with unreal, amazingly brilliant colors they'll feel they're living a real-live fairy tale. After touring,  make a picnic and hike to the Firehole River. Hop in if you dare or relax in the grass and make daisy chains.
Fun fact: Every August 25, the inn celebrates Christmas in August. So if you want to get your Christmas on early you can do a little tree trimming, caroling and hang out with the jolly red elf himself, Old St. Nick.
Grand Canyon
If you're there with little ones, you really only need a few hours to appreciate the most stunning views in the world. Otherwise trekkers, cyclists, whitewater rafters, and even horseback riders can enjoy a literal lifetime of excursions all over the canyon. And the kids don't have to be very old to go on these adventures. Horseback riders only have to be six years old. If you're lucky the cowboys who take you on tour can be some of the most colorful characters you'll meet. My family and I still remember the "Marlboro Man" that took us on our ride. Yippee-ki yay.
Fun fact: Rattlesnakes in Grand Canyon are pink!
Hawaii
Swimming with the turtles at Molokini crater a few miles off Maui's shore will guarantee smiles and memories of a lifetime. My daughter was a very strong ten year old swimmer but the day we went out the waves made her a bit queasy. She still talks about the amazing adventure. On our tour, guides provided little bits of food for the turtles, providing the perfect stage for the ultimate in underwater selfies.
Fun fact: During WWII Molokini was used for target practice. To this day you will see impact craters and shrapnel even bullets on the slopes of the crater. Nesting birds fled the area during the war years but since have returned, resulting in of the most thrilling bird watching spots in all of Hawaii.
Sedona
There's lots of great hikes for the kids in the red rocks of Sedona. There are plenty of great archeological ruins to check out like Montezuma's castle. The iron oxide in the soil gives the area it's sweeping, breathtaking red rock vistas.
Fun fact: The Boynton Trail is one of the trails that is home to Sedona's legendary energy vortex's. At a 30ft. knoll you will spot twisted Juniper trees. The energy at this vortex is supposed to influence the balance between the yin (cool, feminine energy, dark) and the yang (heat, male energy, light) which, according to Taoist philosophy, brings harmony to your life.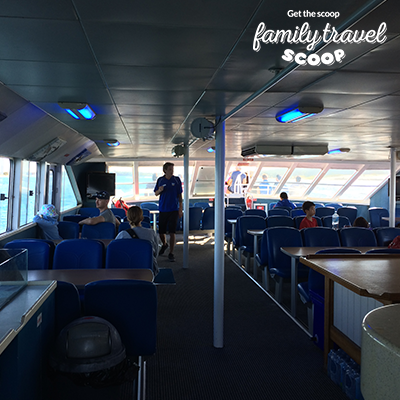 Zion

There's adventure in Zion for everyone in the family, no matter what age. Travel there just to be able to tell your kids you're going to see Walter's Wiggles. Although the existence of the trail is no laughing matter. The workers who built the incredibly winding trail worked all day for the amount of money we spend on a latte. Zion has something for everyone from cycling, rock climbing, hiking, horseback riding, or simply viewing amazing wildlife. Be sure to check out the junior ranger program where parents can leave their kids for the day in the summer months at the Zion Nature Center and explore on their own.
Fun fact: Keep an eye out for a California condor, one of the 207 bird species in the canyon.
An Alaskan Cruise
Take your family through the fantastical frozen landscape that is Glacier Bay. You will be hard-pressed to pick which is more beautiful the vast wilderness or stunning icebergs. Here today and gone tomorrow, best to take your children when they are young because they might not be around as they grow old. Many tours offer naturalist and ranger-led tours which give entertaining and informative details about the region. Who knows? Your kids might even get some school credit. Dogsledding, movies under the stars, and special events for tweens keep the fun factor high.
Fun fact: Jammers, a fleet of stately, red-and-black restored 1930s cars, manufactured by White Motor Company, give tours of Glacier Park and will take you for a drive up Going-to-the-Sun Road. The manufacturer had at one time built armored cars used by the French army in WWI.
Durango, Colorado
All aboard the most breathtaking train ride of a lifetime. The Durango & Silverton Narrow Gauge Railroad winds around the San Juan Mountains from Durango and up to the quaint pioneer silver mining town of Silverton. On your three-and-a-half-hour journey the conductor will tell stories about the rich history of the railroad that has operated since 1882.
Fun fact: The train runs summer and winter.
Disneyland/California Adventure & Balboa Island
Step into the world of Disney here in Anaheim where the magic began. You get a great bang for your buck here with California Adventure next door. One stay at Disney's Grand California will spoil you forever. The experience is epic, from the moment you set foot in the lobby you'll understand why. Walk to the park whenever you want, it's only a short walk away and right outside the front door.
Fun fact: Inside of the Matterhorn there's a basketball court for employees to use on their breaks.
Carlsbad Caverns

You had me at bats! Yes, bats.  People come from all over the world to witness the sunset show the bats put on at Carlsbad Cavern from May to October every year––400,000 of them. Every night they fly for one reason only, to eat bugs, a few tons of them. This is probably one of the most unique ways to spend Halloween. If bats aren't your thing, spend the day spelunking. Tours include rappelling down holes in the earth into an otherworldly scene of stalactites and stalagmites. Don't be scared.
Fun fact: It's believed that a fifteen or sixteen-year-old boy named Jim White discovered the cavern in the late 1800s.
Dinosaur Valley State Park
Seeing is believing, so travel down to Glen Rose, Texas and check out real preserved dinosaur tracks made in a once-ancient Cretaceous ocean . Preservationists say they are the best tracks in the world. So pack your swimsuits and water shoes and get ready for the tour of your life. Rangers will help you wade up to awesome footprints made by brontosaurus-type dinosaurs and meat eaters too. Take a plunge in the Blue Hole and encounter more dinosaur tracks there.
Fun fact: In 1822 Gideon Mantell discovered the first dinosaur fossil ever discovered.
Bioluminescent Bay
Now for a different kind of dino, Pyrodinium bahamense, Dinoflagellates to be exact. In Puerto Rico, Vieques island's Mosquito Bay will enchant the whole family when you paddle into the bay during a new moon, the darkest time on the water. Little organisms nicknamed "dinos" light up when they encounter other organisms and light up beneath your kayak. This guarantees to be an experience you'll remember for a lifetime. The ocean sparkles with every movement of your paddle.
Fun fact: Mosquito Bay has the honor of being the world's brightest luminescent bay by The Guinness Book of World Records.
Petrified Forest
Travel to a forest that was around when dinosaurs first appeared. Only you won't recognize it at all because all the wood petrified, meaning it turned into stone. The artistry of the ancient hunks of wood is one of the most unique sights in the world. Take a tour out of the Rainbow Forest Museum visitor center and discover a petrified wood pueblo built by Anasazi a thousand years ago and incredible petroglyphs, just to name a few of many cool things to do here. 
Fun fact: Fossils and wood aren't the only thing being preserved in the park. A chunk of the old Highway 66 has been preserved too.
New York City
Sailing out of Manhattan to visit the Statue of Liberty is awe-inspiring. She shines brighter than any Broadway starlet and your family will enjoy the trip to see her up close. Be sure to take in Ellis Island to get a better understanding of the drama that unfolded when immigrants spent their first hours on American soil.
Fun fact: The statues full name is Liberty Enlightening the World.
Crystal River, Florida
Swim with the manatees, curious gentle giants that will captivate young and old. Suit up and splash down into the Crystal River in Florida to clear springs where the manatee take shelter from the cold Gulf to warm up. The manatees will approach you and when they do you'll have an encounter with nature you never imagined.
Fun fact: It's been reported that Christopher Columbus spotted what he thought were three mermaids, but remarked they were much uglier than sailors had described. It turns out he spotted three thousand-pound manatees.
Kennedy Space Center
In Cape Canaveral, Florida you can be an astronaut for a day, just an hour from Orlando. Take a ride in the flight simulator and tours of mission control. Preparing for g-forces is something your kids will be talking about with their friends for years to come. Learning how to protect humans from radiation exposure is a project that NASA is working on because it's the key for future space exploration. NASA has set its sights on bringing humans to Mars.
Fun fact: Ponce De Leon named the city Cabo de Cañaveral, which is Spanish for "cape of weeds." Today the space center is surrounded by a national wildlife refuge.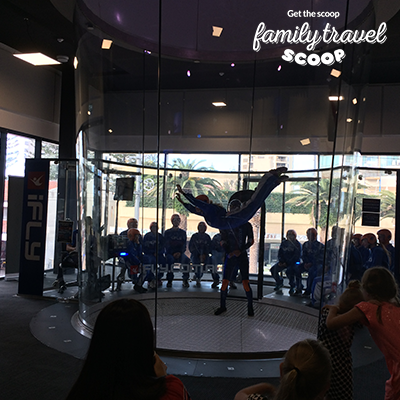 Sleeping Bear Dunes National Seashore

Kids will love climbing sand dunes that look like mountains. And when you reach the top you'll be able to share breathtaking views of Lake Michigan. You can pedal to the park and then just be. You won't have to provide your kids a whole lot of entertainment. They'll love running up and rolling down the dunes––for hours. Then, if you need to cool off, jump in the lake. There are a few great beaches close by. Or, head over to the Platte River where you can tube, canoe or kayak.
Fun fact: You can check out the shipwreck of the Francisco Morazan a cargo ship that ran aground in bad weather in 1960. A 2.5 mile hike on South Manitou Island brings you to a great spot to get a good look at the shipwreck.
Lake Tahoe
So much to wow at Big Blue, whether swimming and paddle boarding at stunning Sand Harbor beach, beating the summer crowds with a hike at Fallen Leaf Lake, taking to the slopes at Kirkwood or spending the day at the Kidzone interactive museum. Your family will have the happy task of picking your summer and/or winter adventure here at one of the most beautiful lakes in the world.
Fun fact: Lake Tahoe is over two million years old.
Mount Rushmore
It's absolutely overwhelming to see the effort and dedication it took to turn these pieces of granite into the faces of Washington, Jefferson, Roosevelt and Lincoln. You can still see the bits of rock that had to be chipped away at its base. Be sure to see the light-show at night.
Fun fact: It took 14 years to sculpt. The original Dutch-American sculptor, Gutzon Borglum, died a year before completion and his son finished the work.
Sawtooth Mountains, Idaho
Mountain climb, white-water raft, hike, ski, fish, mountain bike––there are so many ways to enjoy this uniquely beautiful mountain range. There are companies that will arrange a custom mountain adventure for your family, including overnight backpacking trips to Alpine lakes.
Fun fact: The Sawtooth Mountains were a favorite destination of Earnest Hemingway.
Boundary Waters
If family canoe trips are your thing, than the Boundary Waters in Minnesota should be on your bucket list. There's outfitters who will help you enjoy canoeing with your kids today instead of waiting until they get older. The trips can be as rugged as you wish, or as easy as finding a campground in twenty minutes. This wild, beautiful wilderness is not to be missed.
Fun fact: The Boundary Waters Canoe Area Wilderness contains 1500 miles of canoe routes.


Home

›
Travel Tips

›
USA Family Vacations