Totem from Cirque du Soliel


Cirque du Soleil has an amazing reputation for out of this world shows!
The whole atmosphere is one of wild imaginations and awe-inspiring feats by performers.

The beauty and captivating storylines make Cirque du Soleil shows ones you definitely do not want to miss and an especially good option for children and teens. 

With shows around the globe, if one is playing near you on your next holiday, it is a highly recommended thing to do for families.
We have seen many of the Cirque shows in Las Vegas, Dubai and Perth and each time it has been a wonderful family outing and one that is remembered by all as a highlight on the trips.

What started as a small group of street performers in 1984, now is a world class entertainment company with over 1300 artists performing globally. 
---
Where to See Totem?

TOTEM premiered in April, 2010 in Montreal. The show has run in Montreal, Quebec City, Amsterdam and London. The 2013 season covers North America.
Expect lots of gasps of amazement and joy as acrobatics fly by the audience on roller-skates (carrying each other), juggle an enormous amount of bowls and unicycle at the same time, and many other unbelievable feats! The show is broken into acts and includes some comedic relief with a few very funny clowns!

Video: See what to Expect here:

---
The Story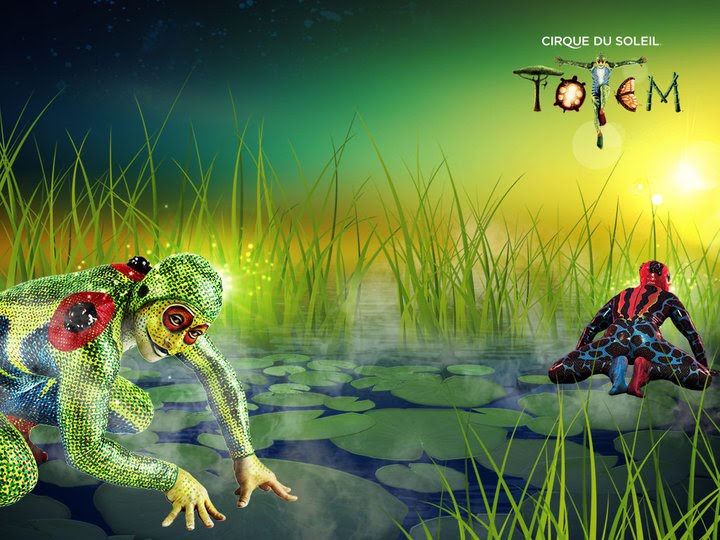 TOTEM is a show that brings folktales and myths to life. Cirque du Soleil says it is a show "somewhere between science and legend.
It captivates audiences with the story of how amphibians transformed into the human species and expresses the evolution of mankind in a display of acrobatic beauty.

Written and directed by Robert LePage, the main characters involve Crystal Man, The Tracker, The Scientist and the American dancer.
Forty-six international acrobats, singers and musicians perform in TOTEM. The scenes are spectacular and compliment the talent on stage in relaying this fascinating story. 
TOTEM transforms into a virtual swamp, a lake, a river source, a marsh, a pond, an ocean, a volcanic island, a starry sky throughout the show with the use of photography and virtual images taken from around the globe.
Costumes created for this show include over 700 pieces and are stunning from the Crystal Man's 4001 piece mirrored costume, to the Hoop Dancers whose costumes are inspired by Native Indians. Many exquisitely designed pieces had to be handmade and hand painted to reflect the show's theme of human evolution.
Reviews
The Montreal Gazette  "A true WOW! Escapist entertainment at its best"
 The New York Times "What's the next level after impressed? Amazed? Awe-struck? Whatever it is, that emotion arrives often in Totem"
The Toronto Star "spectacular, artful. Breathtaking and deliciously ironic"
Read about more Las Vegas Shows here!
---
Booking your Tickets

Visit Totem's website for more details and to purchase tickets.