The Robot Restaurant

Experience the quirky side of Japan!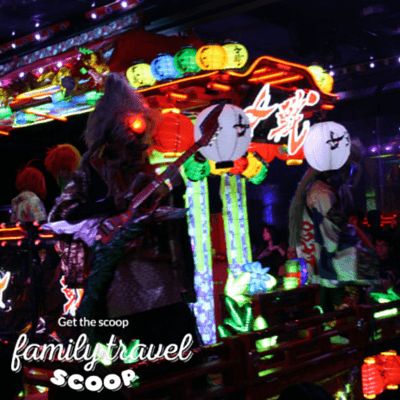 The Robot Restaurant is weird, wacky and soooooo much fun!   This is a must do in Tokyo for kids of all ages.   The pre-show lounge gives you the first taste of what is in store for you.  With over the top décor, its opulent, tacky and wonderful all rolled into one.  You can purchase some juice or soda for the kids here and coolers, beer and spirits for the parents while watching the robot rock band perform. 
When it is time for the performance you will walk down the psychedelic stairwell covered in lizards and head to the theatre. 

Now sit back and be prepared for the strangest thing you have ever witnessed in your life.   Bright lights, robot battles, flying gorlllas,  Pandas riding cows and twin headed robots  and scantily clad girls are all headed your way.   It comes at you from both sides, there is so much to see!  You might even have to duck as the lizard swings its mighty head! 
We all were laughing so hard at all the wild and quirky parade in front of us!   We definitely left this place with big smiles on our face! 


Bento Box meals are available for purchase with a few different options to choose from or head to one of the many restaurants in the Shinjuku area for a meal before or after the show.   There are a few intermissions as the sets are changed and you can purchase popcorn , chips, juice and beer.
My teenagers loved the bright lights of this Shinjuku area, although it is in the red light district but they didn't seem to notice.   There is an arcade nearby and lots of karaoke spots too!  Oh and don't miss the pet store a couple blocks over with the cutest puppies and kittens.  My kids are still begging me for one of those!