Puffing Billy Railway

Enjoy a Lovely Day out in the Dandenong Ranges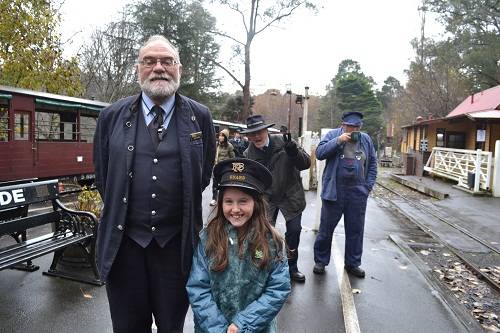 The Puffing Billy Railway is a great Melbourne family attraction! Both my teenage daughter and my 8 year old loved it! The train ride is a wonderful day out.The atmosphere in the stations is jovial as the look and feel of the train station take you back in time.

Puffing Billy is a train line over a hundred years old! Run by nealy 1000 volunteers this is something not to be missed if you are in or near the Melbourne area. We made a day trip of it and left our hotel on Flinders Street Lane in Melbourne and traveled for 40 km to reach Belgrave station-there is lots of parking around if you have rented a car but it is also easy to catch a train from Flinders Street station to Belgrave station for the train journey down the Dandenong Ranges
I recommend getting on at Belgrave and then riding to Emerald Lake where you can get off for an hour or more and enjoy the lake, paddle boating and have picnic before returning to Belgrave. We did this and although it was winter and a bit chilly we enjoyed a stroll around then some hot chips and coffee/hot chocolate in the cafe. Trains tend to leave every hour or so and run everyday apart from the 25th of December! See the website below for details on train times and booking etc.
If you are looking for a family friendly thing to do in Melbourne- we highly recommend the Puffing Billy Train! The old steam trains are actually not one train but a group of refurbished steam trains. As you puff along the route from Belgrave to Emerald Lake with a short stop in Menzies you can enjoy the spectacular views of the Dandenong Range. People are very friendly and along the way there are many horns tooting and people waving at the kids onboard!
The kids can sit on the sill of the train window with their legs hanging out just like in the 'olden days' and enjoy the sites. The whole experience from the retro looking tickets to the uniforms of the conductors and train station staff is something not to be missed!

If you want a unique and cool thing to do that your whole family can enjoy the Puffing Billy is it! For those of you with toddlers they also have a Thomas the Tank train that maybe of interest!

Contact Details of Puffing Billy Railway

Website: www.puffingbilly.com.au
Tel: +61 3 9757 0700
Puffing Billy Railway,
1 Old Monbulk Road, (PO Box 451)
Belgrave 3160,
Victoria, Australia
Email: info@pbr.org.au

See also:
Australian Kid's Travel Journals
Have you been on the Puffing Billy? Share your experience on Facebook!

Home

›
Australia

›
Puffing Billy Railway Tours