Portuguese Food For Kids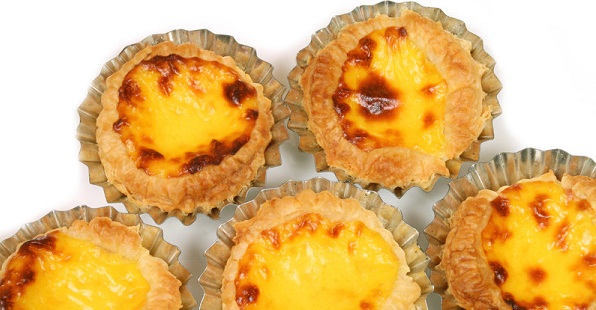 Bacalhau, chicken piri piri and egg tarts are Portuguese food for kids to sample on your family holidays. Portuguese cuisine is influenced by other Mediterranean cuisines.
Seafood is very popular on the menus throughout Portugal with Becalhau being the most common base for many dishes. Sausages are also very popular including blood sausages. Rice and French fries are common side dishes as well as salad.
Breakfast is generally fairly light with breads, sweet pastries and cake are commonly served. Fresh coffee for the parents and fruit juice for the children!
In the main tourist areas you will find the regular fast food places such as McDonalds. Pizza and pasta are also easy to find if your kids want a familiar taste. You will find many restaurants serving international cuisine.
Tasty Portuguese Dishes The Kids Will Love!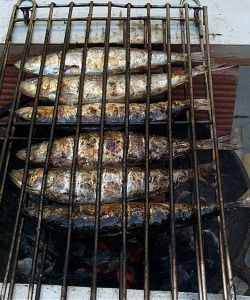 Sardinhas Assadas is a popular Portuguese dish. It is charcoal grilled sardines. If your children like fish they will enjoy this!
Bacalhau is dried salted cod and one of the most common dishes on the menu in Portugal. The cod can be served in many different ways. It is considered to be the National dish of Portugal. Bacalhau com todos consists of boiled cod, vegetables and a hard boiled egg. It is topped with olive oil.
Frango a Piri Piri is a delicious but spicy dish. It is a roast chicken spiced with ground piri piri peppers. It is often served with rice and French fries. If your kids like spicy food they will love this!
Pastries are one of the best Portuguese food for kids. Stop by a bakery and pick up a custard pastry or fruit cake! If you are visiting Lisbon head to Belem for the famous Pastais de Nata which is hand made from a recipe from the 1800's. It is a custard cake topped with cinnamon and sugar.
Seafood is very tasty in Portugal. You will find a big selection in the coastal areas including fresh fish, prawns, lobster and oysters. Caldeirada is a traditional stew with fish, shellfish and vegetables.
Caldo Verde is a yummy soup made from potatoes, cabbage and chunks of chouirco sausage.
Grilled Pork is another one of the Portuguese food for kids. Often served with rice, fries and salad.
Cozido à Portuguesa is a hearty stew made from beef, pork and sausages. It also has cabbage, potatoes, carrots, turnips and rice in it.
Arroz Doce is a yummy rice pudding usually flavored with cinnamon powder. This is one of the most delicious Portuguese food.
More articles to help you plan your family trip to Portugal!
---
| | |
| --- | --- |
| Lisbon Attractions | Lisbon Family Hotels |

| | |
| --- | --- |
| Albufeira With Kids | Portugal With Kids |
---
Home

›
Portugal

›
Portuguese Food