Pirate Life Toronto
Explore the Pirate life Center Island Toronto 
You must have read the mystery stories of Pirates of the Caribbean or any other sea Pirates of the past. Now you can share the thrill of hunting for treasures as the Pirates did hundreds of years ago.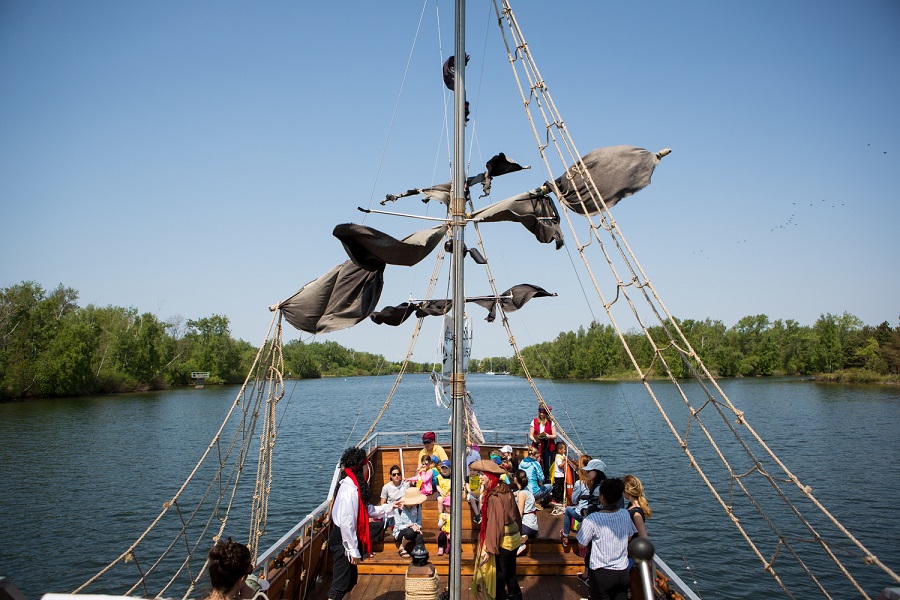 Experience the life of a pirate

Get your Pirate costumes on and prepare for the adventure in the sea. If you do not have any, you could come with parents and friends to the center's stores for a collection of vests, bandanas, and sashes that will make you the great pirate you are! That is not all, there are crewmembers at the center to paint the perfect face curls and put in the signature Pirate moustache on your check. You can also have the 5'oclock shadow along with pirate tats on arms and cheeks to make you look fearsome. 
There is a 45-foot pirate ship waiting for you to climb and pursue adventure as well as the sunken treasure. Aboard the ship is the Pirate school where you get the scurvy crew to teach you about the nitty grittys of sea faring.  
Hunt for mystery Treasure Island
During the treasure hunt at the mystery Treasure Island, you get to meet teams that are looking for the same treasure deep down. Some will be friendly while others will be your foes. Use the water cannons to fight of foes and get all the loot in a fun game. 
Lots of fun awaits you at the sea. The tour of the Center Island takes about an hour while activity on the shore takes about a half an hour. You will have a guide at hand to take you through the tour. The crews will ensure that you are safe from any water-related risk as they first aid certified. The ship has life rings, child life jackets, emergency life rafts, and fire extinguishers. You will be taught on how to use all the safety equipment onboard the ship.  
You can have your birthday party at the Pirate Life Center
The Pirate Life Center is a lovely place to host your birthday party and have fun teams. Book for some space prior to the event for things to be put in order. There are picnic tables, taste snacks pizzas and cake awaiting you. The Island also allows you to bring your own or have it supplied it at a fee. 
Sharpen your piracy skills and get ready to be the feared villain in the sea at Pirates Center Island.
Home

›
Things To Do In Canada

›
Pirate Life Toronto