O'Neill's Pub, Dublin


If you want to experience a traditional Irish pub then visit O'Neill's, it is nestled in the heart of historic Dublin and offers a range of pleasures including good food, good music and good drinks!
O'Neill's has been around for 300 years and like any traditional Irish pub it is welcoming, oozes character and for the most part is family-friendly. Kids are welcome to join their parents in the pub until 9:30pm after which time they need to leave. Having kids in a pub goes back to the roots of Irish pub tradition when the pub was the gathering place for the whole community. That tradition continues and visitors of all ages will be made welcome (but obviously served age-appropriate drinks).
The pub walls are covered with memorabilia from the many famous personalities who have enjoyed a pint here over the years and the dark wood adds to the traditional feel. Although the décor and atmosphere are set in the historic past the pub has expanded its repertoire to include a sophisticated hearty food menu and provide a range of entertainment to please all patrons.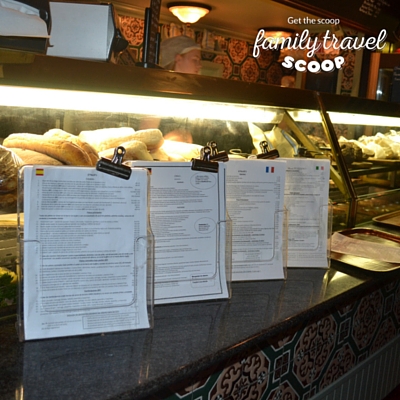 The pub presents live performances of traditional Irish music 7 nights a week and there are enough intimate corners and alcoves to find a place to sit whether you want to join in with the sing-along or have a quiet beer by yourself.
At O'Neill's they screen the major sporting events live on 15 screens including traditional Irish events like Hurling as well as American football and international game. The pub has free WiFi, a heated Beer Garden and a smoking area.

If you're hungry O'Neill's offers a lot more than pub grub. There is a full Irish breakfast (€6.95) and mini Irish breakfast (€4.95) – perfect for kids, served from 8am until 11:30am followed by a rich Carvery and an ever-changing menu of specials served from noon until 10:30pm. For a light snack try the pub's Sandwich Bar, you can select the bread you prefer and choose whatever you wish to put in your sandwich. For parents traveling with kids the Sandwich Bar is a great idea for picky eaters. Not only that but the pub can provide a selection of finger foods of your choice. Other menu favorites are baked potatoes with various fillings and the delicious fish chowder (€6.5). The menu includes ribs (€11.95), roast loin of port (€11.95), traditional Irish stew (€11.5), lamb shepherd's pie (€12.95) and a long list of other delicious dishes. The main courses are served with mashed potatoes, roast potatoes and a variety of seasonal vegetable. Many of the dishes are cooked freshly to order and there are plenty of vegetarian options. Fancy seafood?  Then O'Neill's offers an Oyster Menu with a selection of grilled, cheese smothered or fresh oysters. There are a variety of quality coffees, a Whiskey Corner and the best selling draught beer.


O'Neill's Bar, Dublin-Details

Where: 2 Suffolk Street, Dublin 2, Ireland
Open Hours: Mon-Thurs 8am-11:30pm; Fri 8am-12:30am; Sat 9:30am-12:30am; Sun 8am-11pm.
Contact: (01) 679 3656
Website: O'Neill's Pub