Niagara Falls Camping Ideas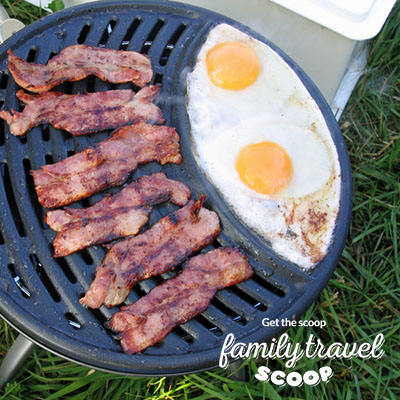 There are plenty of camping opportunities in the Niagara Falls area whether you want to camp in a tent or bring a caravan or RV mobile home. Here are some of the most popular and best campgrounds in the Niagara Falls area both on the United States side and the Canadian side of the boarder.
Niagara Falls Campground and Lodging

This boasts being the closest campground to the falls situated 6 miles from the gateway highway 62 which leads to the Falls. It can accommodate 50 RVs, 15 tents and has handicapped access, an outdoor pool, free WiFi, and pets are allowed. There are also laundry facilities, hot showers and toilets. For RVs there is full hook up to water, electricity and sewer as well as drive thru and pull thru sites. Prices are approximately $50-$60 for RVs and $30-$40 for tents, the price depends on hook ups and the time of year. Prices are for two people. Note that you need to be over 21 years old to book a place here.

Riverside Park Motel and Campground
This is a family run establishment along the Niagara River a few minutes from the Falls. They welcome RVs, trailers, tents and also have a small motel. The campsite has a dock along the river where you can fish or take a boat out. There are washrooms, toilets, hot showers, a small grocery store, a large pool, playground, arcade room, soccer field and expansive lawns. Rates for tents are $30-$40 and for RVs and motel rates are from $49-$75. 
This site is 10 miles from the Falls in Youngstown, NY, and a tour bus carries campers to and from the sites. There are camper cabins, pull through RV sites and tent sites (with no hook up available). Kids activities are held here and there are numerous services and amenities including bicycle rental. Tent sites cost $28 - $38, RV sites $47 - $62 and cabins cost $67 - $92.

Not to be confused with Niagara Falls KOA in Grand Island, NY another campground which is 7 miles from the Falls.

Campark Resorts - Niagara Falls, Ontario, Canada
With tons of amenities and recreational facilities including pools, hot tubs, playgrounds, video arcade and basket ball courts. There are off-road bikes for families to get around, mini-golf the park and Internet. This camp is just 3 1/2 miles from the Falls. There are over 400 camp sites on the grounds as well as RV sites and cabins. Rates are between $36.5 and $58 (Canadian) for a site and $51.5 to $73 for a cabin.
Other Niagara Falls Campgrounds

You may consider some of the other campgrounds in the Niagara area:

Just minutes from the Falls in Niagara, Ontario, Canada, this site offers a lot of facilities and amenities at reasonable rates. There are non-stop activities for kids all day long based on the Yogi Bear characters. 

Niagara County Camping Resort Located 22 miles northeast of Niagara Falls in Lockport, NY.

AA Royal Motel and Campground Great location just 9 miles from the Falls in North Tonawanda, NY.

Niagara Hartland RV Resort and Campground Located in Gasport, NY, there are 100 sites here, a pool and handicapped access.

Lazy Lakes Camping Resort Located in Lockport, NY they have 285 RV sites as well as cabins for rent.

Niagara Woodland Campground Located in Ransomville, NY, there are pools, laundry service, mini-golf, playgrounds, Internet and other recreational facilities. The camp ground has 40 sites.
Home

›
Canada

›
Niagara Falls Camping