Niagara Border Crossing
The Niagara international border between the USA and Canada is run by the Customs and Immigration Agencies on both sides of the border. The NFBC (Niagara Falls Bridge Commission) is responsible for collecting the toll fee and directing traffic to avoid congestion.
Where are the border crossings?
The cross over points from the United States to Canada at Niagara Falls are at the Rainbow Bridge, Peace Bridge and Queenston-Lewiston Bridge, there is a 4th cross over point at Whirlpool Bridge but it is only for NEXUS pass holders and open from 7am to 11pm. 
Lewiston-Queenston Bridge is reached on US highway interstate 190 and route 104 on the Canadian side it reaches the village of Queenston in the town of Niagara-on-the-Lake. In Canada the Queen Elizabeth Way and highway 405 reach the bridge. There are 7 car lanes and 4 truck lanes on the US side and 6 car lanes and 3 truck lanes on the Canadian side. No pedestrians can cross here.
Rainbow Bridge is reached from the US on interstate 190 through Niagara Falls US and on the Canadian side exit 420 from the QEW reaches the bridge through Niagara Falls, Ontario. This is the best crossing for reaching the Casino Niagara. No commercial trucks cross here. There are 18 car lanes into the US and 15 into Canada.
Documentation necessary to cross the border

All people crossing from the USA to Canada require a valid passport (including US citizens) and a 1-94 entry permit. If you don't have a passport a NEXUS card, US passport card or New York State Enhanced Driver's License is acceptable. If you are a US J or F visa holder you will need other documents. If you are a naturalized US citizen you must bring your alien registration card (Green Card) or other proof of permanent residence. Children under 18 not traveling with their parents need a letter of permission from their legal guardian or parent. If you are under 18 (with or without parents) you need a valid proof of identification like an original birth certificate.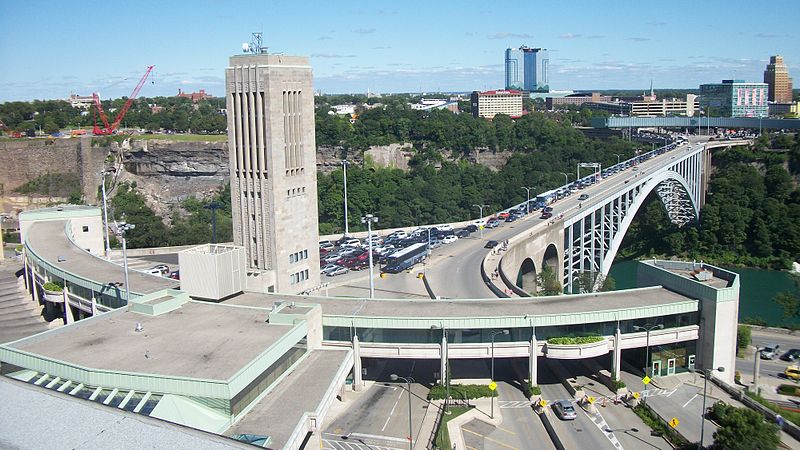 Who needs a visa for Canada?

To see if your nationality requires you to get a visa to enter Canada check this extensive list of countries whose citizens require visas to enter Canada. You could be denied entry if you are not in good health, have been involved in criminal activity or human rights violations or if you cannot prove that you will be returning to the US at the end of your visit.

This is all pretty standard when passing through immigration into a foreign country. If you are planning on working in Canada or immigrating you need to do further reading to find out what is required.
Duty Free
At each of the bridges there is a Duty Free store where you can buy certain products tax free. Alcohol and tobacco products can be bought and brought into Canada by those over 19 and into the USA by those over 21 years of age.

Arriving in Canadian Niagara from the USA you may bring: Duty free items for personal use up to a limit of 1.5 liters of wine or 1.14 liters of spirits or 24X355ml of beer. Also you can bring in 200 cigarettes, 50 cigars, 200gm of tobacco and 200 tobacco sticks.

Leaving Canadian Niagara and returning to the USA you may take back: American residents who have been in Canada for at least 48 hours can bring back to the US up to $800 of duty free goods once every 30 days. If your trip is less than 48 hours you may bring back duty free goods for personal use up to the value of $200 a day. This includes 1 liter of alcohol, 200 cigarettes and 100 cigars.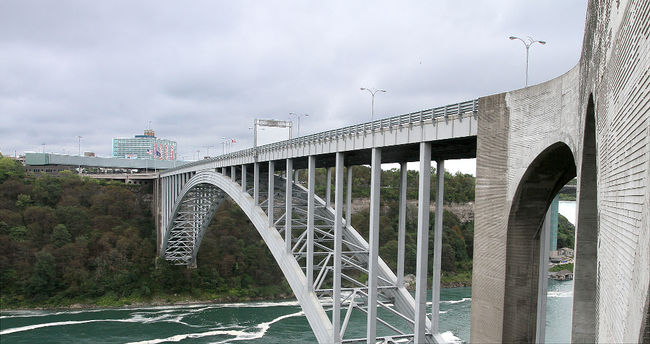 Toll Costs

At Rainbow Bridge and Whirlpool Rapids the toll booth is on the US side and at Lewiston-Queenston the booth is on the Canadian side. Pedestrians pay 0.50c (USD or CAD). A car paying cash pays $3.25USD or $3.25CAD; an Express Pass pays $2.75USD or $2.75CAD and towed vehicles, buses, limos and trucks pay more. The most expensive toll fee is $60.5 for a 12 axle truck. There is an extra fee for heavy vehicles.
Border Waiting Time

During peak season there can be heavy traffic with long waiting times at the toll booths and border authorities. Check the waiting time online or call 1-800-715-6722.
Home

›
Canada

›
Niagara Falls Border Crossing
Home

›
Things To Do In Canada

›
Niagara Border Crossing