Jeanie Johnston Tall Ship

At the Jeanie Johnston Tall Ship you can see and learn how Irish emigrants made their way to America. The journey back in time takes place on board an exact replica of the original Jeanie Johnston ship. The ship is a three masted barque wooden ship docked in the River Liffey in Dublin and has itself made the transatlantic journeys. The original ship made 16 journeys between Ireland and North America from 1847 to 1855. In total Jeanie Johnston carried 2,500 immigrants to the New World. On each voyage there were between 193 and 254 passengers crammed on board.



The Jeanie Johnston was one of many immigration ships in use when a million immigrants fled starvation in Ireland for North America in the 1840s during the Great Famine. The journey took seven weeks and despite harsh conditions on board none of Jeanie Johnston's passengers ever died at sea which was in stark contrast to other immigrant ships. This has been attributed to the ships capital and ship's doctor.

Your experience on the ship begins as you board the ship as immigrants did for their transatlantic journey. You are led into your "quarters" below deck where immigrants would have slept and lived for seven weeks. Here the ship museum has recreated scenes from everyday activities that would have taken place on board. You can see life-size costumed mannequins "acting" out the roles of immigrants. Each of the characters displayed are based on true stories about actual passengers on the immigration ship. You can see 15 year old Margaret traveling with her 12 year old brother.

Meet a father with eleven kids who could no longer make a living in Ireland as a farmer due to the famine. Several inspiring stories are told about the passengers and their determination to overcome adversity and ultimately have a better life in the New World. The tour guide offers insight into the hardships on board, the conditions and what awaited the immigrants in North America. On deck you can learn about the craftsmanship it took to create this replica of the original ship and see how the sailors climbed the rigging and operated the ship.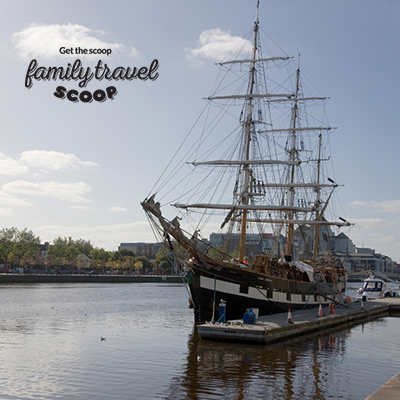 Jeanie Johnston
Where: Custom House Quay, Dublin 1, Ireland
When: Daily 50 minute tours every half hour from 10am to 12:30pm and from 2pm to 4:30pm.
Contact: +353 (01) 473 0111
Website: Jeanie Johnston
Price: Adult €9, Student and senior €8, Children age 4yrs to 15yrs €5, under 4yrs enter for free, Families (2 adults + 2 children) €20.

Note: Call, email or book online. Free entry with Dublin Pass. There is no disabled access. Check the website for times as they may vary with the seasons.


Home

›
United Kingdom

›
Ireland

›
Jeanie Johnston
Home

›
Ireland Tourist Attractions

›
Jeanie Johnston Tall Ship - Dublins Key Attraction