Cavalia -Odysseo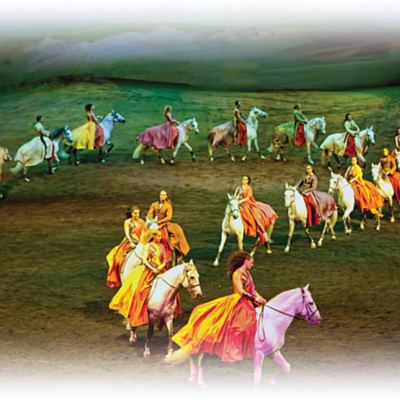 With this creation, Cavalia marries the equestrian arts, stage arts and high-tech theatrical effects at never-before-seen levels.
A veritable revolution in live performance, Odysseo comprises a list of superlatives: the world's largest touring big top, the biggest stage, the most beautiful visual effects, and the greatest number of horses at liberty. 
Odysseo by Cavalia features 70 horses and 45 artists in a 30-million dollar equestrian spectacular that sends hearts racing.
To give life to this extraordinary equestrian adventure, Cavalia created a 1,626 square metres stage, in the middle of which rise two hills each three storeys tall. Some 10,000 tons of rock, earth and sand are trucked in and then sculpted to create the vast space of freedom where humans and horses come to play in complicity.
Above the stage hangs an imposing technical grid capable of supporting 80 tons of equipment including, a full-sized merry-go-round, far beyond anything attempted to date on any touring show and comparable to the best-equipped theaters of Las Vegas, London or New York.


This unique theatrical production is a grandiose multi-dimensional show. Spectators are taken to a live Hollywood-style movie set while the touching interactions between human and horse are at the heart of the action.

Layers of mesmerizing decors combined with gravity-defying acrobatic and areal stunts and the staggering effects created by state-of-the-art scenery makes this humongous stage a feast for the eyes. To enhance this breathtaking experience, the production presents a splendid voyage with extremely high-definition computer graphic images, transporting the audience across the world's most beautiful landscapes.
To project these breathtaking graphic backdrops on an immense cyclorama the size of three of the largest cinema screens, Odysseo uses projectors as powerful as those illuminating the grandest movie theaters. But whereas a cinema has only one projector, Odysseo uses 18 simultaneously. This live multi-dimensional voyage is a veritable revolution in live entertainment production.
Odysseo Ticket Details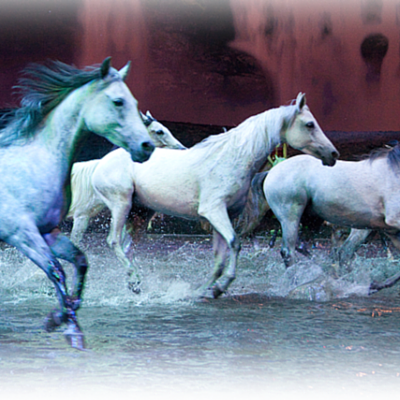 WHAT: Odysseo
WHEN: Matinee and evening performances scheduled through July 5

WHERE: Under the White Big Top at the corner of Metropolitan & Decarie Boulevard

TICKETS: Available at www.cavalia.net or by calling 1-866-999-8111.Tickets are priced from $50.37 to $260.37 + applicable taxes and fees. Special pricing and packages also available for groups, children (2-12), juniors (13-17) and seniors (65+).

INFO: www.cavalia.net

Home

›
Canada

›
Odysseo