Captain Cooke Cruises
Captain Cook Cruises runs a myriad of water transport services including 13 ferry routes; 8 sightseeing cruises and the Hop-on-hop-off cruise for 24 hours or 3 days. Captain Cook Cruises also has dinner and lunch cruises as well trips up Murray River and out to the Great Barrier Reef. The company has a number of whale watching cruises as well.

The most relevant cruises for families and visitors to the city are:

24 Hour Pass - Stopping at Darling Harbor, Circular Quay, Taronga Zoo, Watsons Bay and Luna Park with optional additional stops for an extra fee. The round trip takes 1.5 hours and there is a live commentary.


3 Day Sydney Harbor Pass - Free re-boarding between the stops as in the 24 hour ticket plus Fort Denson and Shark Island. It includes National Park entry fees to Fort Denison and Shark Island, return Manly Ferry from Circular Quay and entry to one of the attractions in Darling Harbor (SEA LIFE, WILD LIFE, Madame Tussauds or the Sydney Tower Eye).


Harbor Highlights - Covers the main harbor sites in a 1.15 hour cruise. Cruises leave from #6 Jetty Circular Quay daily at 2:30pm.


Whale Watching - AM or PM a 3 hour cruise with commentary. If you don't see whales you get another free cruise.

Coffee Cruise - AM or PM a 2 hour cruise of the main harbor sites with a personalized commentary. Cruise departs from #6 jetty Circular Quay daily at 10am.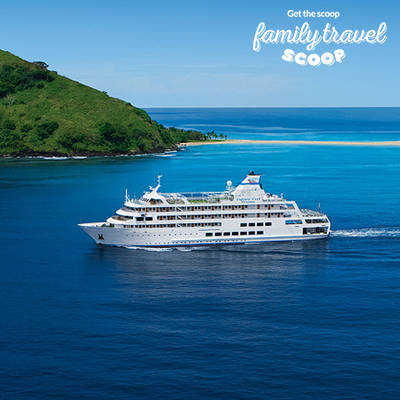 Especially for Children
Children are welcome on all cruises including the dinner/lunch cruises (there are reduced prices on the full menu for kids up to 15 years old) and excluding the Venture Cruise which is for over 12s. 
There is a kid's menu on the dinner cruise but not on the lunch cruise.


Especially for Teenagers
The Venture Cruise (AU$55) is for over 12 year old only, it is a 3.5 hour cruise departing from Pier 26 Aquarium Wharf Darling Harbor with music, lunch and swimming at one of Sydney's secluded beaches. Cruises depart Monday, Wednesday and Friday (November - March) at 1pm.
Open Hours
High Season: 01 November 2013-31 March 2014
Low Season: 01 April 2013-31 October 2013

Cruises and ferries run from 09:30-18:00 approximately with different hours for each cruise. See website for detailed departure times.

#6 Jetty Circular Quay ticket office: 09:00-19:00
Pier 26 Aquarium Wharf Darling Harbor ticket office: 09:00-17:00
No.1 King Street Wharf ticket office: Open an hour before first ferry departure.

Prices

Coffee Cruise: Adult AU$55; student/senior AU$39; child (5-14) AU$29. Family bonus one child (0-14) free with every paying adult.
Cocktail Cruise: Adult/student/senior AU$42; child (5-14) AU$22
Hop-on-hop-off Sydney Harbor Explorer Cruise 24 Hour Pass up to 1.5 hour round trip: Adult AU$39 low season, AU$45 high season; student/AUS senior AU$35 low season, AU$36 high season; child (5-14) AU$23 low season, AU$24 high season. Family bonus one free child (0-14) with each paying adult).
Harbor Highlights Cruise: Adult AU$30 low season, AU$33 high season; AUS senior/student AU$26 low season, AU$28 high season; child (5-14) AU$16 low and high season. Family bonus one free child (0-14) with each paying adult.
Venture Cruise, 3.5 hour cruise (01.11.2013-31.03.2014): All passengers AU$55
Whale Watching (18.05.2013-17.11.2013): Adult AU$88; AUS senior/student AU$72; child (5-14) AU$55; family ticket (2 adults and 2 kids) AU$239.
Zoo Express (return ferry from Circular Quay or Darling Harbor, Taronga Zoo entry and Sky Safari cable car): Adult AU$51.5; AUS senior/student AU$40; child (4-15) AU$25.5.
Luna Park Ferry: Adults AU$10; kids AU$6
Fort Denison Ferry/Shark Island Ferry: Adults AU$20; kids AU$17
Circular Quay-Darling Harbor Ferry: Adults AU$13; kids AU$6
Goat Island Ferry (includes entry to island, guided tours): Adults AU$37.5; kids AU$29; family ticket AU$124
Darling Harbor Express (includes entry into one of Darling Harbor attractions): Adult AU$40; kids AU$21
Sea Life Sydney Aquarium Ferry\Madame Tussauds Ferry/Wild Life Sydney Ferry (includes entry to SEA LIFE/Madame Tussauds/Wild Life): Adults AU$38; kids AU$24
Sydney Tower Ferry (includes entry to Sydney Eye Tower): Adults AU$40; kids AU$21
Manly Ferry: Adults AU$18; kids AU$9
Lane Cove Ferry: Adults AU$11; kids AU$5.9
4 years old and under go free.

Recommended amount of time for Captain Cook Cruise

15 min - 3.5 hours depending on cruise/ferry length.

Directions

Pier 26, Aquarium Wharf/1 Wheat Road, Darling Harbor, Sydney, NSW, 2000 – Next to Sydney Aquarium
#6 Jetty Circular Quay, Sydney, NSW, 2000 
King Street Wharf 1, Sydney, NSW, 2000 – 8 minute walk north of Sydney Aquarium

Giggling Tourist Tips!


If you'll be visiting some of the attractions mentioned then you will most likely need to use to the ferries to reach them so the special ferries which include entrance to the attractions are worthwhile. Baby and toddler facilities are not mentioned on the website. Prices for seniors are only for Australians but students can be from any country.
Home

›
Sydney

›
Captain Cooke
Home

›
Things To Do In Australia

›
Captain Cook Cruises Sydney