Auckland Hotels
Oahu Family Hotels
On this idyllic Hawaiian island there are many family-friendly options, they range from all-inclusive resorts to self-catering apartments. Here are some of the best you'll find on the island.
Moderate Oahu Family Hotels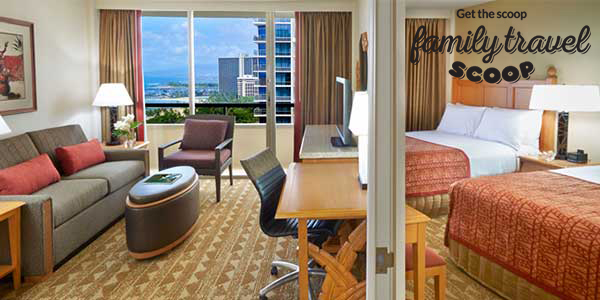 Embassy Suites Waikiki Beach Walk

201 Beachwalk Street, Honolulu/Waikiki, Oahu, Hawaii
http://embassysuites3.hilton.com/en/hotels/hawaii/embassy-suites-waikiki-beach-walk-HNLESES/index.html
This is an all-suite property and the suites are spacious, close to Waikiki Beach and there is no resort fee. All the suites have a separate sleeping and living area with a door in between. There is a mini-kitchen, free WiFi, 24/7 reception, yoga classes, gym, business center and more.
For the kids:
>Kids Club during school vacations
>All-you-can-eat cooked-to-order breakfast
>Weekly live entertainment
>Nightly complimentary drinks and snacks by the Poolside Reception
>Highchairs available
>TV in both rooms of the suite
Fit for a family of:
>Cribs available
>Extra person in room $60 per adult.
> Family of 6 in a 2 or 3 room suite
>Family of 4 in a 1 or 2 room suite
>No additional charge for kids under 18 using existing bedding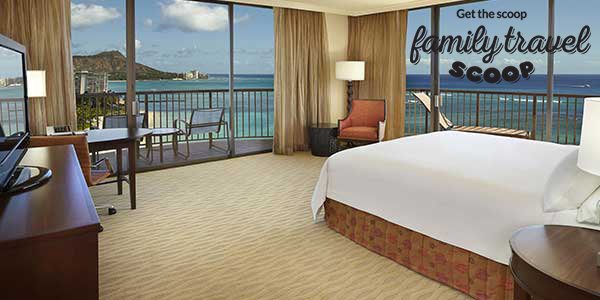 Hilton Hawaiian Village Beach Resort and Spa
2005 Kalia Road, Honolulu, Oahu, Hawaii
http://www.hiltonhawaiianvillage.com/
This is the island's largest resort with endless amenities but it can get crowded. There are three towers – Ali'I Tower, Rainbow Tower and Village Tower. You can pay a daily resort charge of $30 to have added extras like WiFi, PS3, unlimited movies, DVD games, phone calls, personalized postcards, outdoor exercise classes and a Resort Audio Tour.
For the kids:
>Waterslides
> Five swimming pools with poolside activities
>Daily snorkeling lessons
>Nightly torch lighting ceremony
>Animals like turtles, penguins and parrots living in the hotel's nature sanctuary.
>Beach
>Friday night fireworks
>Camp Penguin Kids Club (5-12 years) for activities and excursions ($90 for full day with excursion, $60 for half day and no excursion) includes T-shirt and lunch.
Fit for a family of:
>Family of 5 in Tapa Tower Junior Suite or 1 Bedroom Suite; Diamond Head Tower 1 Bedroom Suite or the Rainbow Harbor/Ocean View Jr. Suite
>Connecting rooms available
Luxury Oahu Family Hotels

Aulani Disney Resort & Spa in Ko Olina

Ko Olina, Hawai'i, 92-1185 Ali'inui Drive, Kapolei, Hi
http://resorts.disney.go.com/aulani-hawaii-resort/
Do we need to say more than "Disney!" This beautiful complex offers kid-friendly everything, from the delicious food, non-stop activities, Disney characters wherever you look and spacious family-friendly rooms with mini-fridges.
For the kids:
>Water park with lazy river, waterslides and a calm water lagoon.
>Costumed staff dressed as Disney characters.
>Daily poolside family dance parties.
>Kids menu at all the restaurants
>Toddler, kid and family spa treatments.
>Beach activities
>Free kids Club (Auntie's Beach House) for 3-12 year olds
>Complementary beach equipment rental (boogie boards, toys, kayaks, snorkels etc)
>Menehune Adventure Trail scavenger hunt
>Teen spa
>Movie night
Fit for a family of:
>Family of 4 in a standard room
>Family of 5 in 1 Bedroom Suite
>Family of up to 6 in the Signature 2 Bedroom Suite
Cheap Oahu Family Hotels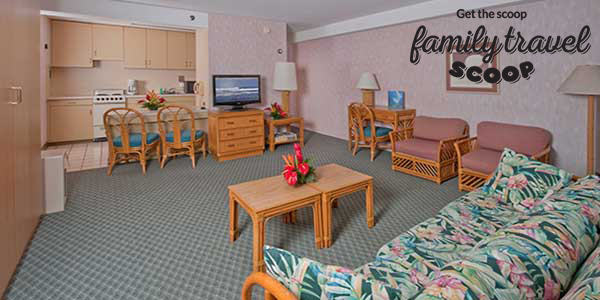 Ilima Hotel

445 Nohonani Street, Waikiki, Honolulu, Hawaii
This hotel is highly rated and is ideal for a seaside vacation, They offer free WiFi, tea and coffee maker in the rooms, free parking,  dining area in your room and full kitchen. There is a 24/7 reception, laundry facilities and gym. The layout is condo-style with individual units. They supply a grocery delivery service to your door.
For the kids:
>Heated (small) pool
>Two blocks from Waikiki Beach.
Fit for a family of:
>Cribs and rollaway beds available for $10 per day plus tax
>Family of 4 in  bedroom suite
>Family of 6 in 2 bedroom suite
>Family of 8 in the Penthouse
Home

›
Family Travel Tips

›
Auckland Hotels