Bali Zoo
Bali Zoo is set among 22 acres of tropical gardens; the zoo offers a hands-on, up-close experience with the animals within shaded lush grounds. There are walk-through aviaries; an open range for African lions and 350 exotic animals. Among the residents are Sumatran tiger, elephants, orangutans, binturong and bears.
The real emphasis at the zoo is on letting visitors get to know the animals up close. There are lots of opportunities for photos with the animals. Visitors can enjoy the petting zoo, feeding the animals, bird and animal shows and riding elephants. On the grounds are two good restaurants each with stunning views of the animals. 
A number of package deals and special experiences are offered by the zoo where visitors can really spend one-on-one time with the creatures. Some of the elephant expeditions take the group outside of the park grounds into the natural surroundings and even over the Wos River.
One of the highlights of the zoo is the Treewalk, an activity for the whole family. Ropes, wooden bridges, swings and spider nets take visitors above the tree tops through a 15 stage challenging circuit. With 130 staff members looking after the animals and maintaining the grounds the zoo is clean and the animals are well cared for.

Details about the Bali Zoo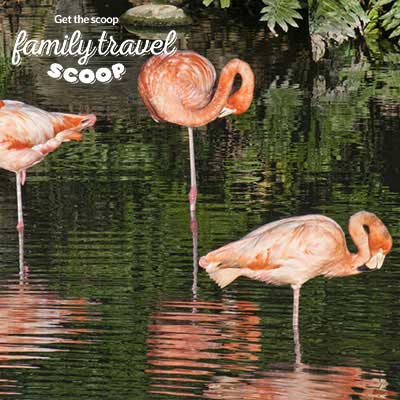 Especially for Babies and Toddlers
• The zoo is accessible for strollers.
Especially for Children
• There is a petting zoo with domesticated animals like horses, rabbits and baby deer.
• Under 12s can order the Cub's Tea at the restaurant and enjoy a range of cakes and sandwiched while parents enjoy the Lioness' Tea.
• Minimum height for using the Treewalk is 130cm.
• Animal encounters in the Elephant View restaurant daily from 12 noon to 2:30pm.
• Buy food at the ticket counter to feed the animals.
• Camel and pony rides are available (weight limit 60kg).
Especially for Teenagers
• Teens will enjoy the "Night at the Zoo" which starts at 18:30 and includes animal encounters, a guided walking tour, fire dance performance and dinner.
• For real elephant enthusiasts there is a "Mahout for a Day" package which includes hotel transfers, learning how to be a "Mahout" (elephant keeper), washing and feeding the elephants, going on several treks, breakfast, lunch, visiting the zoo and a massage.
Open Hours
Daily 09:00 – 18:00
Wednesday and Saturday 09:00-21:30.
Prices
General admission: Adult US$24, child US$12 (2-12 years); family ticket US$65
Treewalk: Adult US$20, child US$12 (2-12 years)
Long Trek Safari: US$80/58 – 30min. Elephant ride, zoo admission, animal encounter, feeding elephants, souvenir, insurance (does not include lunch)
Short Trek Safari: US$65/47 – 15 min. Elephant ride, zoo admission, animal encounter, feeding elephants, souvenir, insurance (does not include lunch)
Elephant Back Safari Only: US$70/50 – 30min Elephant ride, animal encounter, souvenir, insurance (does not include zoo admission or animal feeding)
Elephant Expedition: US$173/121 – 75 min. Zoo admission, elephant ride, lunch, coconut drink, animal encounter, souvenir, insurance.
Recommended amount of time for Bali Zoo visit
2-3 hours
Directions
Bali Zoo, JL. Raya Singapadu Banjar Seseh Sukawati Batuan Sukawati, Gianyar, Bali
Car: 15 minute drive from Ubud; 20 minutes from Denpasar by car or taxi.
FTS Tips!
Catch the animal encounters in the Elephant View Restaurant at 1pm and 4pm daily. Daily bird shows at 11am and 3pm in the aviary area. Transport can be arranged through the park as part of a package.  There are daily animal shows at 11am, 1pm, 3pm and 4pm.
Home

›
Bali

›
Bali Zoo